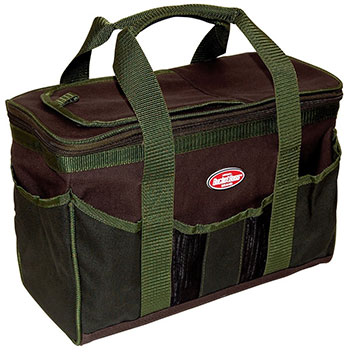 Collapsible cooler bag for transporting food and drinks to and from the construction site.
The portable soft sided and flexible Bucket Boss 30014 is a 14-inch cooler bag designed with an insulated lining for maintaining an appropriate temperature and securely holding food and beverages while on the job site. The cooler bag is ideal for contractors, plumbers, and electricians giving them a practical way for transporting food and drinks to and from the construction site. The collapsible Bucket Boss 30014 cooler bag is designed with a heavy duty zipper lid and includes comfortable grip handles.
One of the many advantages of having an insulated cooler bag is the bag helps prevent food and drinks from spoiling on a hot summer day and provides extra storage for t-shirts, cell phones, and smaller hand tools. The cooler bag also has the ability to fit enough food for long work shifts including multiple sandwiches, snacks, ice gel pack, 20 ounce water bottles, and plastic food containers. The quick access velcro top makes it incredibly easy for quickly grabbing snacks and drinks on the go.
Use the lightweight reusable lunch bag for sporting events, family picnics, hiking, and biking trips. The roomy Bucket Boss 30014 cooler bag has a spacious 14-inch x 10-inch x 6-inch compartment and is designed with 5 multi-purpose external pockets for storing napkins, car keys, condiments, cutlery, and other tool accessories.