Made with Aluminum Body for Corrosion Resistance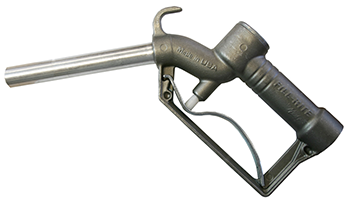 Use the Fill-Rite fuel nozzle for either gasoline or diesel.
For a vast range of fueling functions this construction season move to a new manual fuel nozzle at Hardwaresales.com. The Fill-Rite FRHMN075S will discharge gasoline at a constant flow rate and is designed with a durable cast aluminum body for resisting corrosion and future tarnishing. The fuel nozzle features a ¾-inch aluminum nozzle, ¾-inch NPT-F outlet and is UL/cUL listed. For added innovation each manual nozzle is constructed with a hanging hook which is compatible with all Fill-Rite refueling products. Use the nozzle for either gasoline or diesel fuel. Fill-Rite offers a full line of manual nozzles as well as fuel pumps, fuel meters, and is one of the most trusted names for agricultural and construction refueling applications.
The Tuthill fillrite diesel nozzle can be easily installed to the pump with a flexible hose and will provide a high-flow for filling up off-road, commercial construction, and farm equipment and can be easily attached to a company storage tank or a portable tank on a company truck for improved flexibility on the jobsite. The manual nozzle is rated to -20-degrees fahrenheit operation and can be used all year long in most geographical locations and will require a working pressure of up to 50 PSI (pounds per square inch). This 'made in the USA' Fill-Rite FRHMN075S nozzle is manufactured with the highest quality of materials and can provide individuals with heavy duty service for years and years with minimal downtime.
For quicker fueling and added convenience the nozzle was developed with viton seals and O-rings for smooth valve operation while in use and has a minimal spray pattern for reducing foaming and false shut-offs when pumping.