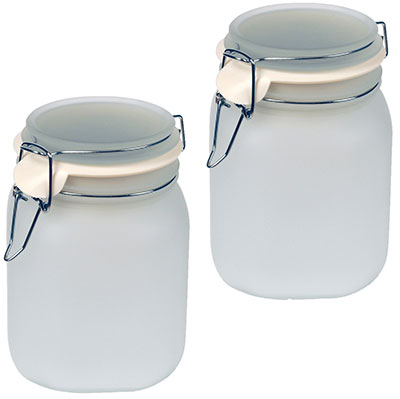 The lighted Jar will change to multiple colors including red, blue, and green.
Make your backyard garden, front door entry, RV campsite, or outdoor setting even more beautiful with a decorative Fusion solar powered jar light. The festive solar jar light will transform a backyard patio or deck for your next outdoor party. Each jar will illuminate in the night time sky and will be the talk of the barbecue. The Fusion 16890 includes two premium solar powered LED mason glass jars and each jar contains a color changing LED for changing to multiple colors including red, blue, and green. Each solar glass jar is 6.25-inches x 4-inches and is designed with frosted glass.
In need of creative outdoor backyard party decorations the Fusion jar lights are lightweight and will brighten up the party or gathering. Each jar can be easily moved from location to location and easily stored away in the winter months.
For improved functionality the decorative mason jars are built with a monocrystal solar panel for converting direct sunlight into electricity for a cost efficient way of recharging the included rechargeable batteries. At full charge the color changing glass jars can be used for up to 8 hours and will be 100-percent fully charged in as little as 4 hours in the sunlight. The number of hours the light stays on depends on your geographical location, weather conditions, and seasonal sunlight availability. Each jar is operated by one AAA NI-MH rechargeable battery.