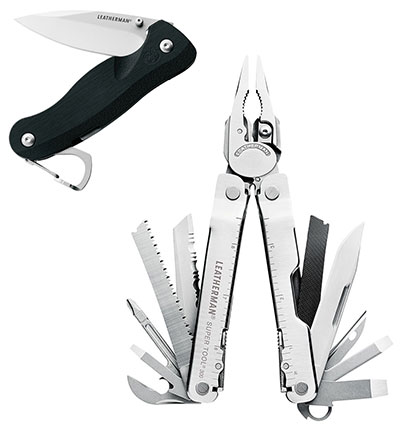 Leatherman Super Tool 300 Multi-Tool includes up to 19 Tools
The Leatherman Super Tool 300 is the original American multi-tool. Built for camping, hiking, and other outdoor activities, the Super Tool 300 combines the versatility of a multi-tool and the functionality of up to 19 tools in one. The Leatherman Super Tool 300 multi-tool is solid and lightweight because it is made out of 420HC stainless steel construction and comes included with a protective Super Tool 300 leather box, and an owner's manual. The award winning and affordable compact tool can be used for quick fixes around the home or the jobsite and can be used for repairs or providing assistance for any outdoor emergency. For a limited time only each Leatherman 831884 Super Tool 300 multi-tool comes with a Leatherman C33 Crater folding pocket knife.
The Leatherman Super Tool is specially designed with a sloped top handle design and has rolled handles for increased user comfort. The compact multi-tool with lanyard ring will easily fit into a hiking backpack, work pocket, or glove box. The Super Tool 300 knife blades and wire cutters are designed with high carbon, high alloy, and corrosion resistant 154CM stainless steel. Each Leatherman multi-tool includes a 25 year limited warranty.
With up to 19 tools included in the Leatherman Super Tool 300 multi-tool including the needle nose and regular pliers, 154CM replaceable wire cutter, 154CM replaceable hard-wire cutter, stranded-wire cutter, electrical crimper, wire stripper, 420HC knife, 420HC serrated knife, a saw, an awl with thread loop, a ruler, can opener, bottle opener, wood/metal file, Phillips screwdriver, large screwdriver, medium screwdriver, and a small screwdriver.
For a limited time the lightweight 2.36 ounce Leatherman C33 crater folding pocket knife now comes standard with the Super Tool 300 combo and is designed with a 420HC stainless knife blade which has been optimized by a specialized heat treatment. The 3.87-inch knife handle is made from glass-filled nylon. The glass nylon handle reduces the weight for easy carrying for camping, hiking, or on the jobsite. The C33 is compact and can easily fit into a pant pocket or hiking backpack pocket.