Free BL1830 Battery with this 2014 Spring Promotion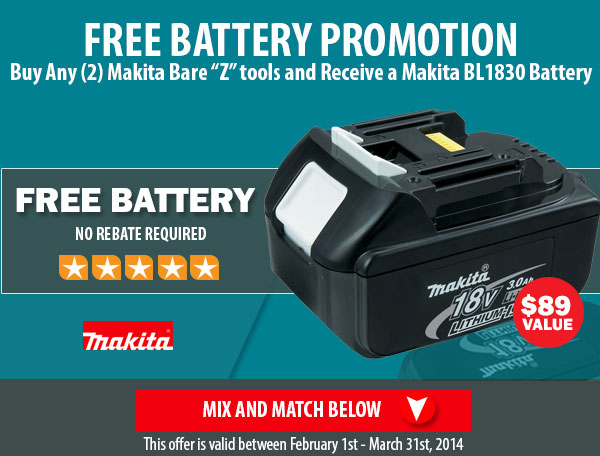 2014 Makita Free Battery Spring Promotion.
Bring in the new year with Hardware Sales as we have teamed up once again with power tool giant Makita to offer a brand new 2014 free battery promotion with no required mail-in-rebate. To qualify for this free Makita LXT battery promotion you must buy (2) qualifying z-bare tools from the list below and you will instantly receive a free Makita BL1830 lithium-ion battery just in time for upcoming spring renovations, home improvement projects, or future birthday gifts. Save this season by adding any two brand new Makita bare tools to any power tool collection and get a free Makita battery. The Makita BL1830 18-volt battery can charge in 30 minutes and will work with any 18-volt Makita LXT power tool. Each power tool battery is 40-percent lighter than traditional 18-volt batteries and will produce up to 280-percent more work for the lifetime of the battery compared to other batteries on the market.
A Makita Z-bare tool is a brand new power tool that is not included with a battery, charger, or bag. This is a cheaper option than buying full power tool kits where contractors and other professionals already have sufficient number of chargers and cases or bags on the job site. These low priced power tools with no additional add-ons give potential buyers the options of buying multiple different power tools for the cost of a single power tool kit. With this promotion simply pick (2) bare tools and instantly receive a BL1830 battery with the tool shipment.
Impact Drivers
LXDT01Z Makita LXDT01Z 18V Cordless Brushless Impact Driver
BTL061Z Makita BTL061Z Cordless LXT 18v Angle Impact Driver NEW
LXDT04Z Makita LXDT04Z LXT 18V 1/4 Hex Impact Drill Driver Li-Ion 18 Volt NEW
Impact Wrenches
BTL063Z Makita BTL063Z Cordless LXT 18v Angle Impact Wrench NEW
BTW251Z Makita BTW251Z BTW251 LXT 18v Lithium-Ion Cordless 1/2" Impact Wrench BRAND NEW
BTW253Z Makita BTW253Z 18V LXT Lithium-Ion Cordless 3/8" Impact Wrench
BTW450Z Makita BTW450Z BTW450 LXT 18v Lithium-Ion Cordless 1/2" Impact Wrench BRAND NEW
Driver-Drills
BDA350Z Makita BDA350Z Bare Tool BDA350 LXT 18v Cordless Right Angle Drill NEW
LXFD01Z Makita LXFD01Z 18V LXT 1/2-inch Lithium-Ion Cordless Driver-Drill Bare Tool
LXFD03Z Makita LXFD03Z 1/2in 18V LXT Li-Ion Cordless Drill Driver
LXPH01Z Makita LXPH01 LXPH01Z LXT Lithium-Ion Cordless Hammer Drill Driver
LXPH03Z Makita LXPH03Z 18V LXT Lithium-Ion Hammer Driver Drill (Tool Only)
LXPH05Z Makita LXPH05Z Cordless 18V LXT 1/2" Brushless Hammerdrill Drill Driver 18 Volt
Saws
BJR182Z Makita BJR182Z BJR182 18V LXT Lithium-Ion Cordless Reciprocating Saw
BJV180Z Makita BJV180Z BJV180 LXT 18v Lithium-Ion Cordless Jig Saw Bare Tool BRAND NEW
BSS501Z Makita BSS501Z 18v 5-3/8"Cordless Trim Circular Saw New
BSS610Z Makita BSS610Z LXT 18V Lithium-Ion Cordless Circular Saw Bare Tool
BSS611Z Makita BSS611Z LXT 6-1/2" 18V Cordless Circular Saw Bare Tool NEW
LXSL01Z Makita LXSL01Z 18V LXT Li-Ion Cordless 7-1/2 Inch Dual Slide Compound Miter Saw
Woodworking
LXJP02Z Makita LXJP02Z 18V LXT Lithium-Ion Cordless Plate Joiner
LXMT02Z Makita LXMT02Z 18-Volt LXT Lithium-Ion Cordless Multi-Tool Bare Tool
LXPK01Z Makita LXPK01Z 18V LXT Lithium-Ion Cordless 3-1/4in Planer (Tool Only)
LXOB01Z Makita LXOB01Z 18V LXT Lithium-Ion Cordless 5in Random Orbit Sander (Tool Only)
Metalworking
BCS550Z Makita BCS550Z 18v 5-3/8 Circular Metal Cutting Saw
BGA452Z Makita BGA452 LXT 18V Lithium-Ion Cordless Angle Grinder
BJS130Z Makita BJS130Z Cordless 18v Swivel Head Metal Shear
BPB180Z Makita BPB180Z Bandsaw LXT 18V Li-Ion Cordless NEW!
LXDG01Z Makita LXDG01Z 18V LXT Lithium-Ion Cordless 1/4in Die Grinder
LXNJ01Z Makita LXNJO1Z 16 Gauge (1.6mm) 18-Volt LXT Li-Ion Cordless Nibbler (Bare Tool)
Concrete
BHR202Z Makita BHR202Z 18V LXT Lithium-Ion Cordless 7/8" SDS-PLUS Rotary Hammer
BHR241Z Makita BHR241Z 18-Volt LXT Lithium-Ion Cordless 7/8-Inch SDS-Plus Rotary Hammer
BVR450Z Makita BVR450 BVR450Z 18v LXT Concrete Vibrator 4' NEW
BVR850Z Makita BVR850 BVR850Z 18v LXT Concrete Vibrator 8' NEW
LXRH01Z Makita LXRH01Z 18V LXT Li-Ion Brushless Cordless 1in Rotary Hammer (Tool Only)
LXRH01ZVX Makita LXRH01ZVX 18V Brushless 1in Rotary Hammer w/ HEPA Attachment (Tool Only)
LXT X2
HRH01ZX2 Makita HRH01ZX2 18V X2 LXT Lithium-Ion Cordless 1in Rotary Hammer (Tool Only)
HCU02ZX2 Makita HCU02ZX2 18V X2 LXT Lithium-Ion Cordless Chainsaw
HHU01ZX2 Makita HHU01ZX2 18V X2 LXT Lithium-Ion Cordless Hedge Trimmer (Bare Tool)
BUB360Z2C Makita BUB360Z2C 36V Lithium-Ion 18V X2 Cordless Blower Tool Only
Fastening
BFR750Z Makita BFR750Z 18v LXT Cordless Autofeed Screwdriver NEW
BST221Z Makita BST221Z 18V LXT Lithium-Ion Cordless 3/8" Crown Stapler Bare Tool
LXSF01Z Makita LXSF01Z 18V LXT Lithium-Ion Cordless Drywall Screwdriver
Power Equipment
LXCU01Z Makita LXCU01Z 18-Volt Lithium-Ion Cordless 5-inch 980 FPM Chainsaw (Bare Tool)
LXHU02Z Makita LXHU02Z 18V LXT Lithium-ion 22-inch Cordless Hedge Trimmer Bare Tool
LXRU02Z Makita LXRU02Z 18V 10-1/2-inch Li-Ion Cordless Adjustable String Trimmer Only
LXMU02Z Makita LXMU02Z 18V LXT Lith-Ion Cordless Grass Shear Tool Only with Comfort Grip
Other
BCL180ZW Makita BCL180ZW 18-Volt Compact Lithium-Ion Cordless Vacuum
BUB182Z Makita BUB182Z 18v LXT Lithium-Ion Cordless Blower NEW
BMR100W Makita BMR100W LXT 18v Cordless FM/AM Job Site Radio with Mp3 Port NEW
LXRM03B Makita LXRM03B 18V Cordless Li-Ion FM/AM Jobsite Radio iPod Docking Bare Tool
BCF201Z Makita BCF201Z 18V LXT Lithium-Ion Cordless Jobsite Fan (Tool Only)
LXGC01Z Makita LXGC01Z 18V LXT Lithium-Ion Cordless 10 oz Caulk/Adhesive Gun (Tool Only)
LXGC01ZB Makita LXGC01ZB 18V LXT Li-Ion Cordless 20 oz Barrel Style Caulking Gun Only