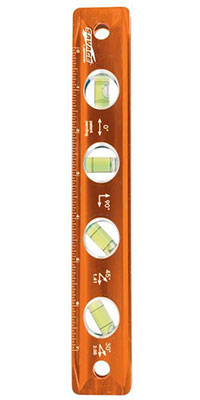 Includes three powerful super strong neodymium magnets for securing to metal surfaces found on all job sites.
For maximum accuracy and durability comes the Savage by Swanson. The TL043M aluminum magnetic torpedo level comes with three super strong neodymium magnets and is made to secure to metal surfaces in tight areas where typical carpenter levels are too big. The compact size of the torpedo level allows the user additional convenience for storing the hand tool in a tool belt pocket, carrying tool bag, or tool bucket. The torpedo level is used most commonly by licensed plumbers, mechanics, professional electricians, hobbyists, and first-time homeowners for making sure surfaces and angles are level or plumbed accurately. The torpedo level is built with 4 leveling vials for helping to avoid costly mistakes and potential delays on the construction site.
The compact Swanson TL403M torpedo level is 9-inches long and features a rare magnet magnetic strip for easily securing to metal surfaces for all types of applications. The magnetic strip is necessary for 2-handed installations and allows the contractor increased flexibility. The professional-grade Swanson TL043M torpedo level comes with an exclusive gelshock endcaps for better protection against high impact drops on hard surfaces such as concrete, tile, brick, and other materials found most commonly on construction sites. Each Swanson torpedo is designed with big, easy to read, vial windows and is made of a high grade aluminum.
Swanson has over 80 years of experience manufacturing quality hand tools for carpenters. Swanson is known for high quality squares, levels, straight edges, marking and flags, and other carpenter accessories. Each Swanson tool is made with highest quality materials and workmanship, and features a limited lifetime guarantee.