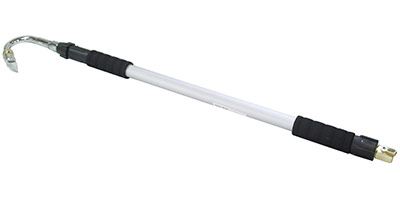 Telescoping Gutter Wand for clearing out branches, leaves, and other debris.
With summer fast approaching make sure to complete regular roof cleaning for preventing roof gutters from breaking, down sprouts clogging, and limit mold, mildew, and other algae from forming. Avoid costly professional repairs and be frugal this summer season by using the professional quality Tahoe 50201122 gutter cleaning 41.5-inch to 68.5-inch telescoping wand.
The garden telescoping wand can easily be connected to any standard garden lawn hose and gives the homeowner or landlord additional flexibility for many different landscaping projects. The wand is designed for quickly removing smaller debris such as leaves and branches. The wand is perfect for cleaning gutters without a ladder readily available or a house built on a sloped terrain. The powerful sweeping action can also be used during monthly yard maintenance by clearing driveways, patios, decks, walkways, and other pressure-washable surfaces!
Each Tahoe telescoping water wand is made of higher quality rust-proof aluminum and features a fully adjustable shut-off for controlling the direction of the water nozzle. With the telescoping wand extending to an impressive 68.5-inches the garden wand can help by cleaning gutters from the ground and instead of cleaning gutters with a leaf blower. The wand is made to push large amounts of water with increased speed to clear gutter blockages and other debris. For greater user convenience the gutter cleaning wand can also be used to water overhead hanging flower baskets in the hot summer sun and will provide a safer method for the homeowner than climbing a ladder or step-stool.