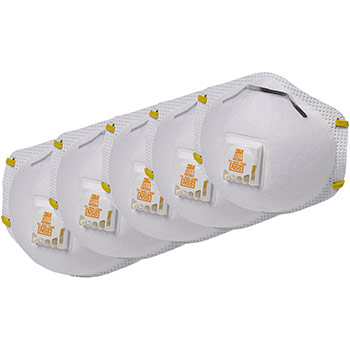 Lightweight and compact at only 4.8-inches in length and 1-inch in width.
Designed to protect your lungs and throat from inhaling dusts on the jobsite, the 3M 8511PB1 respirator mask is made for increasing worker safety on job sites throughout the country. The mask is N95 approved and includes 10 contractor respirator masks. Each lightweight mask is made of a soft inner material for durability and improved worker comfort. With a 95 percent filtration efficiency against certain oil and non-oil based particles it makes the 3M respirator mask one of the most reliable safety products on the market.
Each disposable particulate respirator cup style mask is compatible with a range of protective 3M eyewear and hearing workplace safety protections. The 3M 8511PB1 particle mask is designed with a patented 3M cool flow exhaust valve for helping reduce moisture buildup that will occur in extreme hot and cold weather applications. This reliable worker respirator protection mask has been approved by the occupational safety and health board (NIOSH) and passes CDC guidelines. The United States NIOSH defines the N95 rating as being able to filter at least 95-percent of not oil resistant airborne particles found in new home construction, workplaces, and woodworking workshops.
The adjustable M-nose clip reduces safety glasses from randomly fogging with a secure fit over the nose and mouth. For best results the particulate respirator mask is recommended to be used when grinding, sanding, and sweeping when particles will be more common. The 3M tekk mask is ideal for workplaces that involve heat, humidity, or long periods of wear. The N95 mask filter also works extremely well against non-toxic grain dust.