Professional Big Foot Saw for Cutting Wood Materials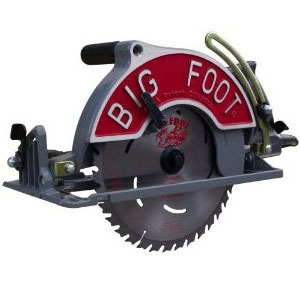 Cut All Types of Wood Materials with Precision BF-UG Circular Saw
The Big Foot Tools BF-UG wormdrive circular saw is a technological advanced circular saw with a built in powerful Skil produced motor. A circular saw is one of the most commonly used power tools on the construction site for remodeling, woodworking, and framing. The handheld circular saw is popular as a basic tool for its smooth accurate cuts, balance, and comfort for carpenters, builders, and contractors.
The long and narrow Big Foot Tools BF-UG wormdrive magnesium circular saw is heavier than traditional circular saws and is exclusively designed with higher torque, power, and durability for allowing a contractor to save valuable cutting time and moving on to the next job task quicker while reducing the amount of labor, time, and energy. The 10-1/4-inch wormdrive circular saw will be able to cut up to (4) wood materials in one straight cutting pass as well as a 2x4 piece of lumber. This corded saw is designed for cutting wood headers, double sandwich headers, deck beams, porches, fence post, shapeplates, and ½-inch plywood with one swift cutting motion.
Designed with a comfortable handle and improved balance the clearly visible 10-1/4-inch carbide saw blade comes with a diamond knockout center for providing precision control for all types of wood cutting applications. These types of wormdrive circular saws tend to be designed with greater twisting power therefore the carbide saw blade is less likely to bind in thicker wood which will help create a safer working environment.