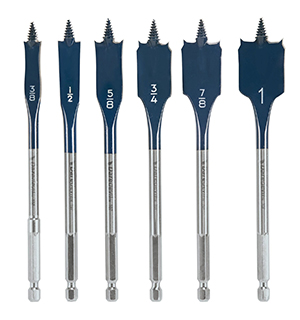 Spade Drill Bit Set for professionals seeking improved speed, durability, and hole quality.
For reducing drill bit slippage during heavy duty drilling applications the Bosch DSB5006 6-Piece Spade Drill Bit set features a hex shank power groove with spur and reamer trips for improved hole quality and reduces breakout. The full-cone threaded tip allows the user to quickly and effortless drill cylindrical holes into many different materials including wood, and other wood materials. For a wide variety of diameters the Bosch DSB5006 6-Piece Spade Drill Bit comes included with 1-inch, 7/8-inch, ¾-inch, 5/8-inch, ½-inch, and 3/8-inch diameter spade drill bits.
Each Daredevil Impact Tough spade bit is designed for improving speed, durability, and longer bit life. Each bit has been tested for up to 10x faster speeds for boring projects than conventional wood spade bits in the home improvement market. Designed to be used with cordless lithium-ion power drivers and electric handheld hand power drills the contoured paddle bits will provide the user with increased durability and faster chip removal. For best results use Bosch HDS181-03 Hammer Drill/Driver, DDS181-02 ½-inch Drill Driver, Bosch HDS180-03 ½-inch Hammer Drill/Driver, Bosch DDS181-02L 1/8-inch Variable Speed Drill/Driver with L-BOXX-2, and Bosch CLPK232-181 2-Tool Combo Kit.
Easily drill precise and large diameter holes on job sites or construction sites with less vibration. Each drill bit is ideal for electricians, plumbers, tradesman, and do-it yourselfers. Included with a limited lifetime warranty against defects each bit is designed for easily allowing the user to quickly change out bits with ease and is made with a ½-inch Hex power groove shank.
Buy Now Bosch DSB5006 DareDevil Professional Impact Tough 6-Piece Spade Bit Set