Lower Air Consumption with Chicago Pneumatic CP7733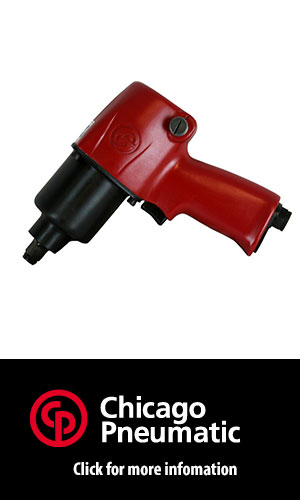 Electric vs Air Impact Wrenches
The best in class weight to speed ratio Chicago pneumatic CP7733 is a ½-inch impact wrench designed for lower air consumption while delivering higher torque for all impact tool-worthy applications. The pneumatic power source is more commonly used than electric impact wrenches or cordless impact wrenches. Most air tools are used among mechanics, light duty truck work, body shops, and on the construction site. The Chicago pneumatic impact wrenches are known for their versatility and are available for purchase in a range of different sizes and styles at Hardwaresales.com.
When on the construction site a vast majority of contractors and professionals will lean towards a traditional air impact wrench for help tightening and loosening fasteners such as screws and bolts. The air wrench requires compressed air to power any Chicago pneumatic tool and needs to be plugged into an air source or a bottle of compressed air. When comparing electric vs air impact wrenches on the construction site contractors prefer the durability and the 'built to last' protective case construction on the Chicago pneumatic CP7733 impact wrench and will allow a mechanic to work for longer periods of time where as a corded tool is less flexible and will require a longer electrical cord and will make the impact wrench heavier.
The CP7733 air tool comes with a comfortable ergonomic pistol handle and is designed to improve control and balance and is lightweight at only 7 lbs. The air wrench can be easily stored in the back of the work truck, maintenance garage, or workshop for the next project and is long lasting and is made of professional quality materials. This Chicago pneumatic CP7733 ½-inch impact wrench includes a 1 year limited warranty.