DC390 Circular Saw By DeWALT Is Still A Favorite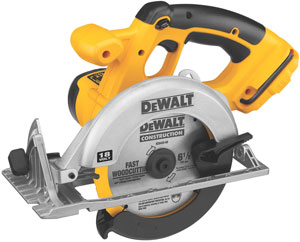 The DeWALT cordless DC390 XRP circular saw can make brisk work on many different cutting projects with the powerful but subtle 3,700 RPM exclusive motor.
This 18-Volt DeWALT cordless circular saw can be combined with any 6 1/2 inch, 5/8 inch arbor circular saw blade on the market for quick universal fit, superior cutting performance, and a greater cutting speed on all different types of work materials.
Being in the housing market and planning for my future I have decided this past Christmas I was going to buy an assortment of power tools in preparation of buying my first house. I can read all the books, magazines, home improvement television shows, and online videos in preparation, but I knew from my past experiences with DeWALT power tools I wasn't going to go anywhere else. As a young kid growing up in the Northeast, I remember going to my grandparents' house on frequent snow days and if it wasn't the smell of fresh baked date filled cookies it was the sight of the black and yellow power tools in the back of the garage that got me excited. I cherish the memories I had with my grandfather and the different kinds of projects we did in his workshop. One day we are making an elaborate doll house for my cousin and the next we are making a wood bird house condo. I was trained in the art of using a circular saw by the age of 12 and I would easily cut into treated cedar in 2 seconds with the powerful motor. Add in a little wood glue and you have a state of the art bird house for all types of northeastern birds. Just one of the memories DeWALT power tools has brought into my young life.
I know one of the most advantageous power tools to have within reach as a new homeowner will be the DeWALT DC390 circular saw. I've found the DeWALT cordless DC390 XRP circular saw can make brisk work on many different cutting projects with the powerful but subtle 3,700 RPM exclusive motor for faster rip cuts and cross cuts. Just add in any circular wood saw blade and you can be cutting wood for building a new outside deck, cabinet, dining room table and installing precious crown molding to an interior room in a jiffy. If you want the power and durability you'd expect from a fresh off the assembly line power tool than a DeWALT DC390 circular saw is the excellent power tool for less cost. The tool is intended for professional contractors, handymen, and can be used on almost all types of home renovation projects as a mainstay.
Depending on the type of project the saw blade is a crucial part in any home improvement plan. Circular saws can be used for cutting all types of materials ranging from wood, laminates, to PVC, and metals. The DC390 is accompanied with a blade wrench, 16 tooth carbide saw blade, and an instruction manual for any and all questions related to the low cost DeWALT circular saw. This tool is available in a variety of kits, complete with battery or charger, as well as reconditioned kits. It is also available as a bare tool if you already have the battery and charger. I know if there is any problem with my DeWALT saw that I will be taken care of by their impeccable customer service support team and since DeWALT is a nationwide company that has designed and produced hundreds of different types of tools ranging from power tools, hand tools, saw blades, drill bits, and tape measures, I will be in good hands when I need to buy another power tool. Each DeWALT tool has an exclusive tool warranty to cover for any rare defects. DeWALT is a subsidiary of Stanley Black and Decker.