Balance between Power, Run-time and Comfort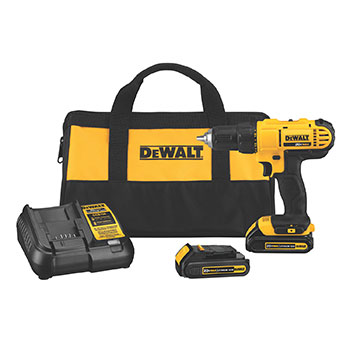 Designed for Drilling holes and Driving screws
This spring time look to invest in a brand new powerful DeWALT DCD771C2 drill/driver kit for completing home renovations projects and other improvements around the house. The professionally designed DeWALT cordless drill/driver is compact enough for fitting into tight work areas and the lightweight construction allows for easier job site mobility. The DCD771C2 20V MAX includes a DCD771 ½-inch drill driver, (2) DCB207 20V MAX 1.3 Ah compact lithium-ion battery packs, DCB106 compact charger and a contractor bag.
Designed for drilling holes and driving screws, the DCD771C2 20V MAX has the right balance between power, run-time, and comfort with the ergonomic grip. The DeWALT portable cordless power tool has the ability to be used from start to finish on a wide range of projects. Being lightweight, under 3 pounds, gives the 20V cordless drill the advantage over heavier 20-volt power tools on the market. The keyless 1/2-inch single sleeve ratcheting chuck will provide a tight bit which adds gripping strength while drilling, and the built in LED light will provide additional light in the darkest drilling areas.
The DeWALT DCB207 will allow contractors, installers and electricians a longer run-time than traditional standard lithium-ion batteries with up to 33-percent more run time between battery charging. For added flexibility on the job site the DeWALT DCB207 1.3 Ah battery pack is compatible with the entire line of DeWALT 20V MAX power tools. For quickly charging the 20V DeWALT DCB207 battery use the DCB106 included in the DCD771C2 20V MAX kit for fast 35 minute battery charging.
The included DeWALT contractor bag is capable of holding a DCB106 battery charger, multiple DCB207 1.3 Ah slim batteries, and one cordless drill/driver. The small and compact DeWALT tool bag is made of ballistic nylon construction with a heavy duty zipper for withstanding years of rough conditions on the construction site and can hold the DeWALT DCD771C2 20V MAX power tools in one convenient storage location.
This DeWALT DCD771C2 kit features a 3 year limited warranty and will provide years of drilling and driving screws for any home improvement project which is the perfect gift for a do-it yourselfer or a new home owner.