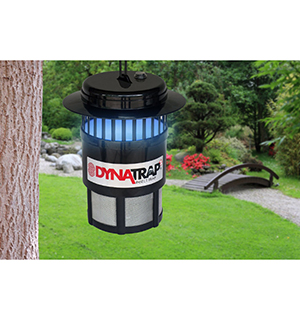 The Original Insect Trap Provides Homeowners a Pesticide and Odor-Free Indoor/Outdoor Protection.
With a 1 year limited warranty and Included with Hanging Chain, Cleaning Brush, Screwdriver, and Owner's Manual the DynaTrap DT1000 Half Acre Original Insect Trap catches mosquitos, biting flies, Asian beetles, wasps, hornets, yellow jackets, moths, stink bugs, and other flying insects indoor or outdoor living spaces.
Made with photocatalyst technology and a special UV light the DynaTrap DT1000 is designed to help reduce the population of mosquitoes and other annoying flying insects. This powerful 110-volt/220-volt with 12-volt adapter is lightweight at 2.38 lbs and is built-with a 10-foot cord. The Dynatrap insect trap is engineered for 3-way protection with a UV fluorescent bulb for generating a warm light for attracting insects to the Dynatrap exclusive Ti02 titanium dioxide-coated surface. The Ti02 titanium dioxide-coated surface produces CO2 and the built-in whisper-quiet vacuum fan sucks insects into the retaining cage where they dehydrate and die.
With no pesticides, up to 1/2 acre coverage, silent operation, 24 hours 7 days a week, and durable all-weather construction. Exclusive TiO2 coasted surface produces CO2 irresistable to mosquitos. At 9.5-inches x 13-inches the lightweight insect trap can be placed on an outdoor patio, deck, or anywhere in the backyard. No zapping or buzzing or expensive propane attachments. Each Insect Trap is made with a damper trap in the retaining cage so insects do not have the ability to escape when the trap is turned off for cleaning