Ethan Taylor LED Bird Feeder with New Solar Bird Light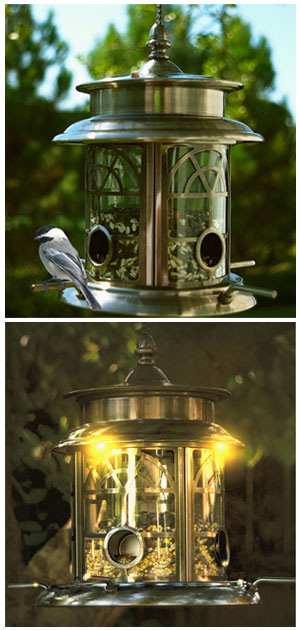 View backyard garden birds with an outdoor bird feeder.
One of the most common backyard centerpieces is a sunflower seed or mixed seed bird feeder for feeding and attracting American goldfinch, robins, red wing black birds, and other popular garden birds. The Ethan Taylor LED Lighted pewter outdoor hanging bird feeder comes with an improved new solar bird light for being used to light up during long summer nights. The bird feeder is powered by solar panels and the natural sunlight will charge the feeder during the daytime and is also included with (2) AA rechargeable batteries. The Ethan Taylor bird feeder can be installed with zero wiring needed and includes a S-hook and an adjustable chain for convenient hanging from a nearby tree branch, bird feeder pole, hook or fastener.
The improved new solar bird light is designed with an amber LED light which will illuminate the bottom of the bird feeder lid at night. The included perching rim will attract smaller to medium sized wild birds while discouraging annoying squirrels, raccoons, and chipmunks from eating the expensive bird seed.
The Ethan Taylor LED bird feeder is designed with a copper solar-lighting arch inlay and is constructed with innovative drainage holes for keeping bird seed dry and preventing seed from becoming soggy and unusable. The LED feeder is easy to maintain and the slidable top lid can be removed for fast bird seed refilling and will securely protect the seed from pests and intruders.
With warmer weather and springtime fast approaching in much of the United States a seed feeder can be used to compliment an Astonica solar lighted bird bath for even more ways for bird enthusiasts to watch garden birds in a more natural landscape in the backyard. Bird feeding has shown to increase the abundance of garden birds around a garden or backyard.