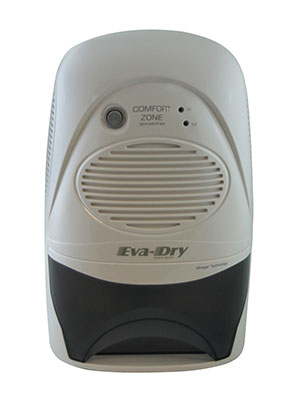 Absorb up to 20.5 Ounces of Moisture Per Day with the Mid-Size Eva-Dry Petite Dehumidifier
With warmer weather on the horizon the portable Eva Dry Petite dehumidifier is an easy to install appliance and is wired for 120VAC household usage. Eva Dry EDV-2200 is recommended for rooms and basements up to 2,200 cubic feet. The Eva Dry water tank has a capacity of 2 fluid liters and will greatly reduce the level of humidity in the air. For best results use the home dehumidifier in a room with at least 86-degrees fahrenheit temperature and over 80-percent humidity in the room.
Increase air quality and lower the humidity with the Eva Dry dehumidifier for preventing pests, fleas, cockroaches, woodlice and dust mites that thrive on moist damp air found in most southwest and mid-west states during severe humid weather. When placed in a large area room the portable dehumidifier will absorb a vast amount of moisture in the air which is turned into undrinkable water and stored in the basin. The tank will need to be checked often and will need to be emptied on a daily basis. The dehumidifier is installed with a completely removable water tank and the unit has a built-in automatic switch for alerting the homeowner when the tank is at full capacity. The unit is designed to absorb up to 20.5 ounces of moisture per day. The water tank is completely removable and will require the user to dump out multiple times during humid days.
This EDV-2200 electronic air petite dehumidifier can help lower and maintain unwanted moisture in the air that causes an uncomfortable living environment. Humidity has been found to increase health problems like allergies and asthma, and can damage household electronic appliances. Untreated moisture in a home or workplace can create unhealthy mold, water dripping from pipes, peeling home wallpaper, warping wood interior walls, and musty carpet odors that will need to be replaced. In conclusion, purchasing an Eva Dry EDV-2200 petite dehumidifier can and will create a more enjoyable and comfortable home environment when moisture is concerned.