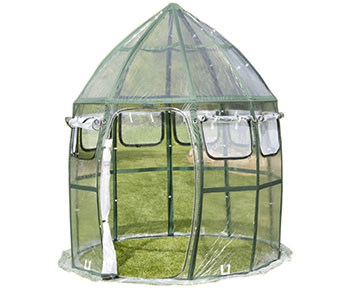 Compact Design at only 8-feet 7-inches x 10-Feet
The FlowerHouse FHCV900 portable greenhouse can be easily set-up in minutes and requires no tools for assembly. The walk-in design conservatory greenhouse will protect plants, fruits, flowers, and vegetables. The flower house will extend the growing season in northeast states and other colder areas. With a Greenhouse it allows gardeners and homeowners the ability to grow vegetables and flowers in the late fall season and early spring season and then can be moved outside as the weather gets warmer.
Most of the FlowerHouse portable greenhouse kits are specially designed for maintaining higher humidity levels than the outdoors and will create an ideal plant growing environment. With added versatility the portable greenhouse is able to be set up anywhere on a property including on soft soil or hard surfaces. The conservatory Portable Greenhouse is 8feet 7inches x 10-Feet and can be installed over existing trees or bushes with the open floor design. The greenhouse is made of clear PVC material with enhanced UV protection for longer life. The PVC material is compact and lightweight and makes for easy transport. Makes a great addition to any garden, backyard, or landscape and is perfect for a Mother's Day or Father's Day gift.
The polyvinyl chloride (PVC) material will protect plants from spring rain, snow, small animals, and insects and can be folded up and stored in a garage, attic, or backyard shed. The portable residential greenhouse makes growing vegetables and flowers an affordable option for any hobbyist, homeowner or gardener. Each Flowerhouse pop-up greenhouse comes with a one year limited warranty against defects and workmanship.