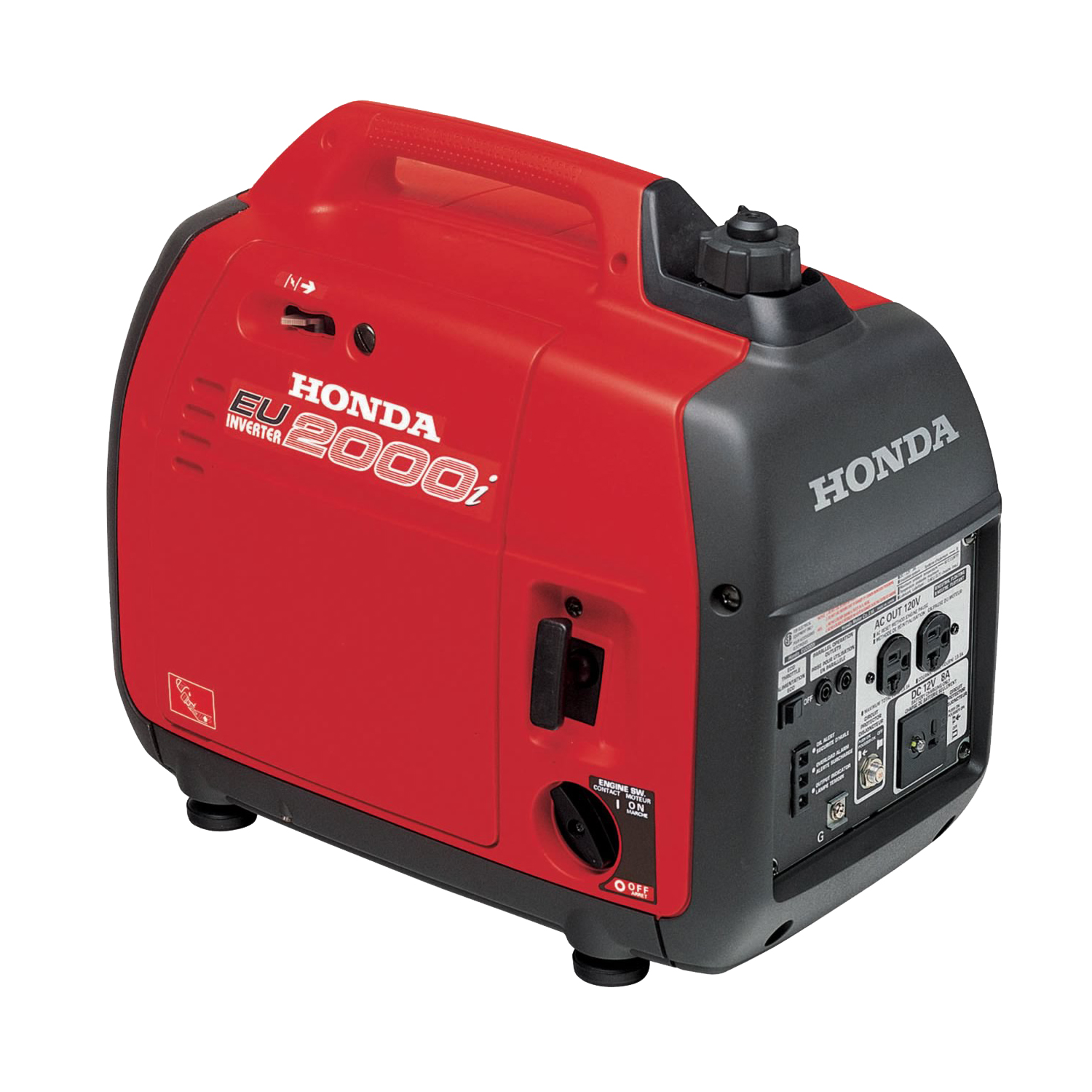 The Honda EU2000 Power Generator Review
When Hardware Sales employees buy power tools and equipment we get the chance to share with the customer our experiences with such purchases including the Honda EU2000 Power Generator.
This is a true story told to me by my HardwareSales.com co-worker Mike about one of his experiences when he forgot to bring out his Honda EU2000 power generator and a friend offered his discount generator. Imagine you are boating out in the San Juan Islands located in the Pacific Northwest. Your boat battery is getting low, so you fire up your discount generator. Your generator is pretty noisy, reverberating the din across the water and before you know it kayakers are paddling over and introducing themselves. They mention how they heard your generator on the other side of the cove you are anchored at. They remind you this is 'nature' and you might want to turn the generator off because it is obnoxiously loud. If only you had not forgotten your lightweight, energy efficient, SUPER QUIET generator that can run all morning to charge your boat battery, like the Honda EU2000.
The EU2000, the most popular power generator of the Honda power equipment line has a piggy-back function called 'Parallel Capability.' When you link two EU1000i, EU2000i, two EU3000 Handi, or EU300is generators together (you can only link identical units) you can get as much as double the output.
"They are super quiet," the reason Mike uses a Honda. He says he has friends who have tried other makes that are cheaper, but they tend to have a lot of noise complaints. Noise pollution is increasingly becoming a larger and larger factor for many people, like the kayakers who didn't like Mike's loud generator, you will also run into trouble with people at camp grounds, or neighbors during a power outage. Not to mention, while it is annoying to other people, you are going to be the closest one to the noise! Nobody wants that. "You lose power for a few days your neighbor could get pretty tired of it," Mike said. "The Honda's are way quiet for what they are and super reliable. If you are a contractor, maybe no big deal [to go with the louder generator], but not if you have to be around people or out enjoying nature.
I wanted an account of how practical the eco-smart feature was and Mike assured me it works well. When there is a load on the generator it will ramp up to cover the power usage. Another one of my concerns was gas consumption, but again Mike assured me that it depends on the load I was putting on it. Mike speculated that the EU2000 held about a gallon of gas (.95 gallons according to Honda's website.) He uses his a couple hours in the morning and a couple hours in the evening to keep his battery charged. He refills it every three days. The official specs say it can run up to 9.6 hours on less than a gallon of fuel.
The EU2000 takes straight gas but it is important to note that many of the new fuels contain a high amount of ethanol that can cause problems for many generators and small engines. To keep it running well, you should also put in a fuel additive. Mike recommends changing the oil and putting in a new spark plug at the end of each summer. This way the spark plug doesn't get eaten away by the salt air and you are ready to go next season.
Mike and I talked about oil for the Honda generator and discussed how Hardware Sales is in a good place to be able to sell Honda and the Opti-4 together. When you buy Opti-4 with a new Honda generator Opti will double the engine warranty from 3 years to 6 years.
Mike mentioned the EU2000 generator is light enough for his son or wife to carry around at less than 47 lbs. The EU3000 was Mike's original choice because it is easy to start and would be able to charge his battery faster, but the EU3000 is over twice as heavy as the EU2000 so for his needs, the weight was a big factor in his decision. While not as convenient to lug around, it does have other bells and whistles like the simple start function and more power that makes it very appealing for many uses. Mike says the cart accessory is nice for moving the heavier generators around if you don't want to pick it up. Honda products are tested thoroughly and if it takes them three years to get it right, they'll do it. Honda's the way to go.
If quiet is an important feature of the EU2000 Honda generator, what is the final word on the EU2000? Mike says, "Reliability. That is Honda's big thing."