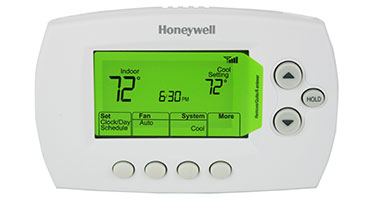 Save Money with a Honeywell Smart Response Thermostat.
Save money on your heating and cooling bills by installing a brand new Honeywell RTH6580WF universal programmable 7-day thermostat. Each RTH6580WF thermostat is designed with a built in Wi-Fi connection and includes a free app for controlling the thermostat wirelessly from the living room couch, bed or the backyard patio and will work with almost any tablet, computer or smartphone including the popular iPhone or Samsung phone models. With less hassle the Honeywell digital thermostat wifi will automatically download firmware and software updates to keep the RTH6580WF up-to-date.
Eliminate past thermostat compatibility problems with the innovative Honeywell RTH6580WF programmable thermostat which is designed to be compatible with all heating, cooling and heat pump systems, and requires a 24-Volt VAC power source and will not work with traditional electric baseboard 120-Volt to 240-Volt heat.
The easy to install and maintain smart thermostat comes built with an advanced temperature control system technology allowing the universal Honeywell thermostat to keep correct time with the built-in real clock in case of a rare household power failure and will automatically update the time for daylight savings. Each thermostat is designed with a large easy to read display for less eye strain on homeowners.
The Smart Response Technology learns to pre-heat/cool your home for increased comfort in an apartment or condo and can be easily pre-programmed for cost savings during nights, weekends, and during the day at work. The Honeywell RTH6580WF universal thermostat includes a 1 year limited warranty and comes with a free app for Apple IOS and Android devices.