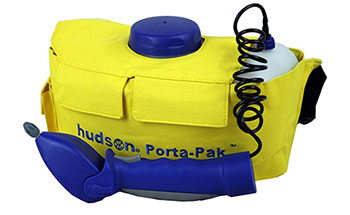 No Pumping Battery Operated Outdoor Sprayer
With springtime arriving soon the Hudson 62518 outdoor Never Pump Porta-Pak Fanny Pack sprayer is the ideal sprayer for spot-treating remote garden patches, vegetables, or hanging plants. The fanny pack garden water sprayer is designed to be extremely versatile as well as lightweight compared to a heavier backpack sprayer or a water hose. The sprayer is designed with an ergonomic sprayer handle and the blue waist belt is adjustable for almost all sizes. The uni-body water tank can hold up to 1 gallon of water and features an adjustable nozzle pistol spray gun for producing a fine mist or longer distance stream.
The small and economical no pumping battery operated sprayer is powered by (4) AA batteries and includes a 1 gallon tank, waist pack, and pistol grip spray nozzle. This sprayer can be safely and easily used by seniors or younger kids for an enjoyable family time in the garden or any other backyard spraying applications. The pump-free sprayer is made for people with previous hand injuries, arthritis, or any other health problems.
The Hudson fanny pack sprayer includes a 30-Day money back guarantee and is one of the most versatile garden sprayers sold at Hardware Sales and makes it a perfect mother's day or father's day gift for a mother, father, grandparent, or sibling.