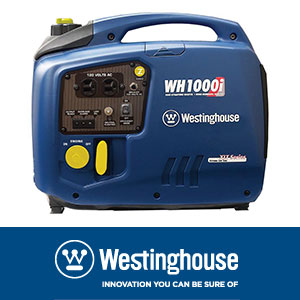 Westinghouse Outdoor Gas-Powered Equipment
With an industry leading 3-Year Limited Warranty Westinghouse Electric Corporation will provide a homeowner or contractor with superior customer service for all product related issues. With a wide selection of outdoor power equipment from Westinghouse Products now available at Hardware Sales including gas powered inverter generators, portable gas generators, gas pressure washers, manual transfer switches as well as generators accessories for added convenience for Westinghouse gas powered equipment including parallel cords, 30 amp/50 amp generator power cords, storage covers, and more.
With portable gas generators ranging from 5000-watts up to 10,000-watts prepare for the next seasonal weather storm with a reliable single touch and hassle-free start-up 4-Stroke portable gas-powered Westinghouse generator from Hardware Sales. Designed with numerous 5-20R 120V outlets and a 120V/240V twist lock outlet use the unleaded gasoline generator as a light duty back-up emergency power source, camping, RVing, and construction sites. Each gas powered generator is included with a 25-Foot or 30-Foot generator power cord as well as an oil bottle, funnel, tool kit, and instruction manual.
Next spring use a pressure washer for a hassle-free outdoor cleaning application. The easy to transport and heavy duty Westinghouse gas powered pressure washers are specially designed for cleaning driveways, decks, windows, and other applications around a home. With up to 5 quick connect nozzles, 25-foot flexible no-kink pressure hose, gun/wand, soap bottle, oil, siphoning hose, and a 3 year limited warranty the pressure washer will provide the user with cleaning results for years. Each pressure washer features a lightweight chrome plated wand with improved comfort and control and an axial cam pump.
For added user convenience Hardware Sales stocks Westinghouse generator accessories. For outdoor storage for all 1000-Watt and 2000-Watt gas generators use an outdoor storage cover for increased protection against dust and light water. For adding more power on a limited construction site use a WHPC parallel cord between (2) Westinghouse WH2000iXLT inverter gas generators which will allow the user to run larger corded power tools.