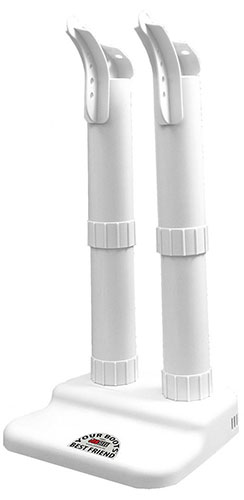 Reduce Moisture and Bacteria in all types of Footwear and Gloves.
During the hot days of summer doing activities such as fishing, hunting, hiking, or even working in insulated boots will make your feet sweat. Without proper care of the boots or shoes bacteria will start to grow and will begin to give off a strong odor. With the Jobsite Boot Dryer it is exclusively made for all types of materials including leather, PVC, rubber, neoprene, canvas, synthetics, cloth, fleece, micro, and other modern fabrics. The dryer has been found to extend the life of footwear, clothing, and clothing accessories. With the thermal convection technology the heat travels into the boot and will find the hard to reach wet spots for quickly eliminating odors, bacteria, and sweat.
Just before bed easily plug the power cord into a standard 120-volt household outlet and the boot dryer will transform a smelly and damp boot overnight. The lightweight design and portability of the boot dryer, at only 2 pounds, allows a homeowner to move it from a mud room to the bedroom with ease. With temperatures between 98-110F the boot dryer can warm-up shoes in 30 minutes, dry damp boots in 8 hours and completely dry wet boots overnight before next day's shift or activity. For additional comfort the Jobsite dryer can be used for gloves, shoes, and hats.
As for most home electrical appliances, keep out of the reach of children and unplug the shoe and boot dryer when not in use. Place the small compactly designed Jobsite Boot Dryer on a flat surface and allow the natural dry air to flow inside the clothing. The design allows for easy storage in a closet, and the built in cord is 60-inches long and provides the user with added flexibility. The boot dryer includes two 8-inch extenders for longer boots and gloves. The dimensions are 10-1/2-inches x 5-1/2-inch x 14-inches and has a two year limited warranty on the dryer and is ETL listed.