Professional Johnson 40-6517 Self-Leveling Rotary Construction Laser Level Kit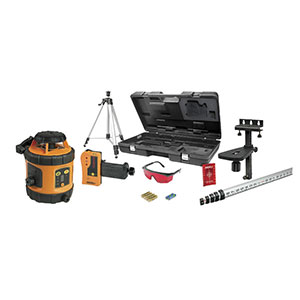 A quick and accurate self-leveling rotary laser kit for all construction workplaces.
The professional quality Johnson 40-6517 rotary laser level kit is designed for creating accurate horizontal or vertical lines on copious construction work surfaces. Each laser level projects a horizontal laser plane and projects a vertical laser plane with a 90-degree split beam.
The lightweight, easy-to-transport Johnson 40-6517 battery powered rotary laser level can be used on ceiling installations, wall or footing construction, squaring and leveling, baseboard installations, fence installations, cement floor installations, window installations, and anti-static flooring installations for construction renovations and home improvements. Laser rotation speeds can be easily switched from Low 200 RPM, Medium 400 RPM or High 600 RPM with LED indicating lights built on the Johnson laser level.
Johnson 40-6517 self-leveling rotary laser is designed with water and dust resistant materials for use up to 200-feet in interior applications and up to 800-feet for exterior applications with an included battery operated laser detector. The Johnson professional laser detector can detect a red rotating laser beam and can pin-point the accuracy of a rotary laser up to 1/8-inch for up to 50-feet. This allows for an accurate and reliable method for contractors, woodworkers, and home remodelers. Easily connect the Johnson self-leveling rotary laser level to a tripod using the 5/8-inch -11 screw thread.
The lightweight Johnson 40-6517 rotary laser level weighs in at 3.3 lbs and can run up to average of 20 hours of continuous use. The rotary laser level kit includes a self-leveling rotary laser level, 4 AA alkaline batteries, wall-ceiling mount, 8-feet grade rod, laser detector with 2 AAA Alkaline batteries and clamp, tinted glasses, magnetic target, elevating tripod, hard-shell carrying case, instruction manual with warranty card. Johnson Level & Tool offers a 3 year limited warranty on each of its products.