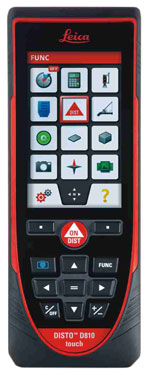 Simplify Your Project Layout With The Leica D810 Touch
It's time to welcome the Leica Disto D810 touchscreen laser distance measurer. This tool brings modern technology to the field, making it easier for contractors, real estate agents, engineers, and technicians. The tool still does standard laser distance measuring with a range of 200 m (650 ft) and an error of +/- 1 mm as well as angle and slope measurements. However, the addition of the camera and touchscreen greatly improves the use of the tool. The camera allows you to accurately see your target right on the screen for greater accuracy in measuring width, height, and volume. With a x4 zoom you can find the exact edge, and the exact point from which you would like your measurements to start or end. The screen shot function allows you to save a photo with the measurements so that you can download them later for review.
The Leica Disto D810 price is competitive. The kit includes the D810 touch with USB connections, Lithium-Ion batteries, and the Leica Disto Sketch Smartphone app. The laser measurer has a 360 degree tilt sensor as well as a compass and is capable of taking digital measurements of distance, width, height, slope, surface area, and volume, among others.
Take the Leica D810 to a construction site to set up your site. Take it on an archaeological or historical field survey to take accurate notes and save key images and data for your reports. Use the measuring tool to complete your geological or architectural survey. Whatever your project, the capabilities of the Leica Disto D810 is sure to make it a breeze.