Motorized Locking Metal Case with Lights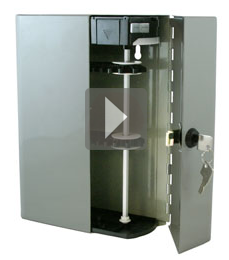 Locking Key Box for Business Storage
The Key Box organizer is easy to install and will securely hold up to 48 single keys. The convenient motorized key lock box can be mounted on a home or office wall for greater accessibility in any workplace. Just unlock the key safe with one of the included master keys and glance at the reference chart inside the key safe box for the specific location of the requested key needed. Each key will have an individual number on the hook inside the lock box for finding the key quicker and with greater accuracy saving both the company and employee time in the long run.
Save time and money and upgrade from multiple smaller key boxes spread out throughout a building or home to create a centralized location with the motorized 48 key organizer for organizing all the work keys in one designated area. This will create less confusion at work and greater accountability for misplaced door keys and protection against theft.
To operate the electrically rotating lighted Key Box simply press the corresponding arrow button and the built in light will turn on inside the compact metal enclosure. Once the button is pressed the key box will move in a forward or reverse motion until the user finds the requested slot number. The metal lock box sold by Hardware Sales is battery operated and requires AA batteries for powering the motorized mechanism inside the key lock. This lock box does not come with batteries. The key lock box is made of durable metal and will hold over double the keys than other more expensive key lock boxes on the home improvement market.