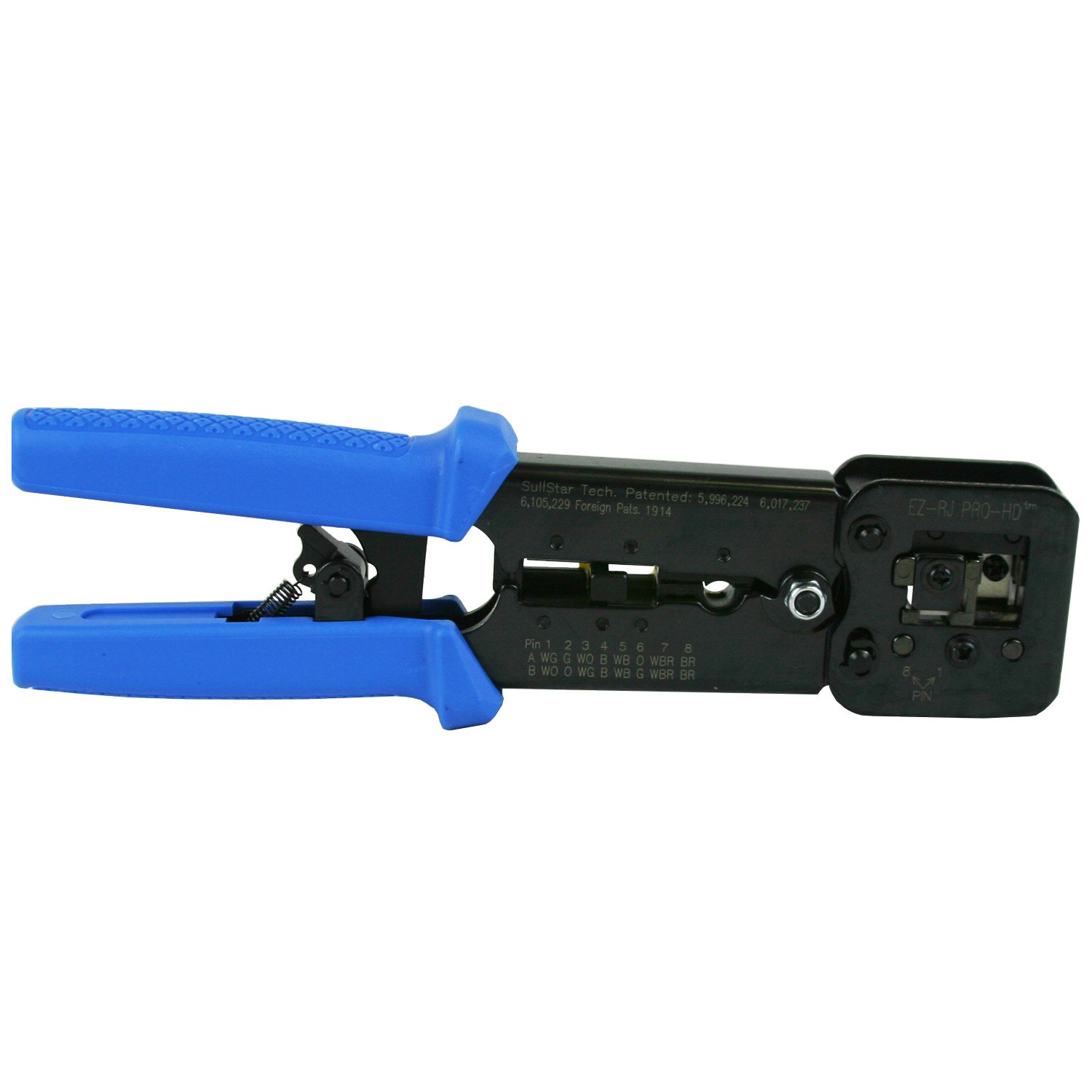 Platinum Tools Patented Crimp & Trim System
Made exclusively in the USA and designed with comfortable blue comfort grips for increased cutting and crimping control the lightweight at only 1 LB 2.3 OZ Platinum Tools EZ-RJPRO HD Crimp Tool provides the user with consistency, repeatability, and allows for quick connector installations. Each HD Crimper is specially designed to be compatible with all Platinum Tools connectors and features a built-in wire cutter and stripper for increased productivity during large or small network installations.
The Platinum Tools EZ-RJPRO HD Crimp Tool can be used for quickly crimping RJ-45 CAT 5E, EZ-RJ45 Shielded CAT 5E, EZ-RJ45 CAT 6+, EZ-RJ12/11 Connectors and other RJ45, RJ12, and RJ11 modular plug connectors except for AMP. The RJPRO HD crimp makes a clean and flush trim and the expanded surface area delivers increased crimping force and allows the installer to connect connectors to the end of network cables during all types of phone or computer cable installations. One of the added bonuses about the EZ-RJPRO HD crimper tool is the patented crimp and trim system developed by Platinum Tools which will allow the technician to crimp larger dimensional sized cables without delaying installations.
With a one year limited warranty and a built-in wire cutter the all-in one ratcheted 8-1/2-inch x 2-1/2-inch crimp tool allows the user to cut phone or CAT 5 cables without requiring additional hand tools in your tool box. The crimper tool gives the user ability to cost-effectively wire large networks by cutting and crimping their own connectors and each termination meets and exceeds FCC specifications and the zero flex frame will help prevent torque loss during crimping operation.