Makita 18v Cordless Power Tool Praise By A Hardware Sales Employee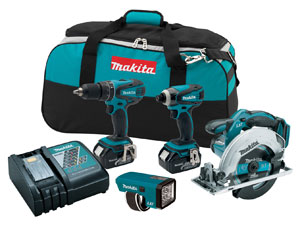 Hardware Sales has seen many power tools, but the Makita 18v cordless power tools stand out to one employee as going above and beyond.
My first cordless power tool kit as an adult was a Makita LXT437, so I'm writing this with more than a little bias. Although my tools are older versions of the current roster they still have held up to years of use... and abuse. I've added several tools to the original kit like the BMR100W Radio, the BJR182Z Recip Saw, and the super energy efficient DC18RC charger. I've built a couple sheds, done a bathroom remodel, and built and mended more fences then I care to think about.
When doing one of those big projects and especially when you are using either the Makita recip saw or the cordless circular saw, you can never have enough batteries. Hardware Sales is a Makita BL1830 battery distributor and thanks to them I have all the batteries I need. I never want to have to stop a job again because of my battery losing juice. When putting up a fence you can have the LXDT04Z, the Makita impact drill, and a buddy can have the LXPH03Z, the Makita hammer drill, and with a couple extra batteries you can put up a huge fence in no time.
Another small unsung hero is the Makita LXT Belt Clip. I figured, "never needed one before", but boy was I wrong. I realized this when I was helping take down the framing for an acoustic ceiling standing on a 12ft ladder switching between my wire cutters and my impact driver. I was able to get twice as much done in that time and work safer from not having to go up and down the ladder or setting the driver on the top of the ladder and have it potentially fall off and hit someone.
Whether you need to start with the big LXT601 6-piece Makita kit or just need a BGA452Z cordless grinder for one simple job, Makita has over 70 individual tools in the LXT 18v lineup so one of them is sure to be the exact right tool for the exact right job. And speaking from experience, they'll be dependable tools for years and years.