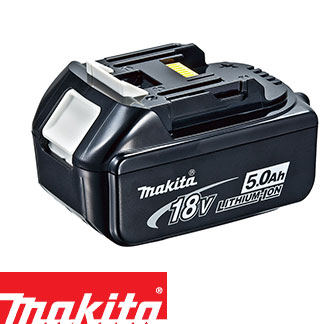 Increase Power Tool Run-Time with Makita BL1850 5.0 Ah Batteries
With a larger battery capacity the new brand new Makita BL1850 5.0 Ah lithium-ion battery pack can deliver up to 66-percent more run-time per charge than a BL1830 battery. Each 5 Ah battery will provide the contractor with longer run-time for completing jobsite applications as well as more power and longer battery life than other smaller amp hour 18v lithium-ion batteries. Designed with the ability to fully charge in less than 45-minutes with a Makita DC18RC LXT 18-Volt BL1830/BL1840/BL1850 lithium-ion Fast Charger or Makita DC18RD 18-Volt LXT Fast BL1820/BL1830/BL1840/BL1850 lithium-ion Dual Charging Battery Charger System the battery is lightweight at only 1.5 lbs.
Each battery is exclusively made with more power per cell and is the same weight and size as the Makita 3.0 Ah BL1830 and 4.0 Ah BL1840 lithium-ion battery tool packs. Designed in a tough shock abortion shell for increased protection against drops, falls, and bumps on construction sites.
Designed with a large white release button for easier removal from cordless Makita LXT power tools and included with a 3 year limited warranty each 18v slide battery pack is designed to work with any cordless Makita LXT power tool with a "star" or a yellow connector plate. For better performance the 5Ah battery is constructed with built-in air vents for cooling down the battery cells for improving lithium-ion battery longevity.
The following Makita power tools are NOT compatible with the new 4.0Ah or 5.0Ah Makita 18-Volt Lithium-Ion Batteries: BCS550, BSS501, BVR450, BCS550F, BSS501F, BVR450F, BCS550Z, BSS501Z, BVR450Z, BGA452, BST221F, BVR850, BGA452F, BST221X, BVR850F, BGA452Z, BST221Z, BVR850Z, BJS161, BTW450, LXDG01, BJS161F, BTW450F, LXDG01Z, BJS161Z, BTW450FX1, LXDG01Z1, BJV180, BTW450X, LXJP02, BJV180F, BTW450Z, LXJP02Z, BJV180Z, BTW450ZX1, LXNJ01, BPB180, BVR350, LXNJ01Z, BPB180F, BVR350F, LXWT01, BPB180Z, BVR350Z, and LXWT01Z.