This kit promotion has expired. The Current Makita Free Battery Promotion is running from February 1st, 2014 to March 31st, 2014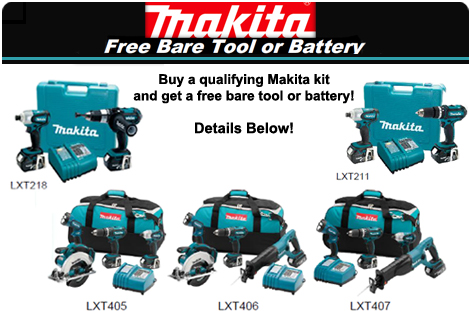 Act fast! This promotion ends on March 31st, 2013!
When you purchase one of the following kits you can choose a free bare tool to go along with it:
(BUY A KIT) LXT211, LXT218, LXT405, LXT406, LXT407
(GET ONE OF THESE FREE) BSS611Z, BGA452Z, BJR182Z, BL1830, LXPH03Z, LXDT04Z, LXMT02Z
The Kit and the bare tool have to be purchased on the same invoice to qualify. The instant rebate will automatically be applied to the cart.