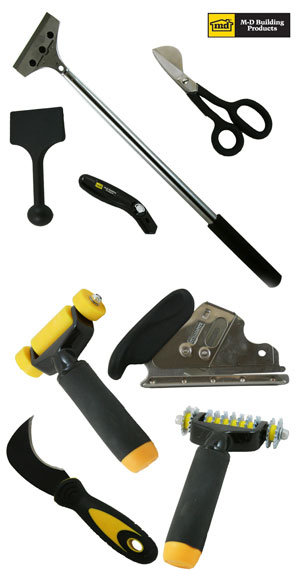 Do-it Yourself Carpet Installation Kit includes up to 8 carpet hand tools.
Be prepared for your next carpet flooring installation with the do-it yourself MD Building Products 8-piece flooring kit. The carpet flooring installation tool kit includes the basic essentials for quickly and easily replacing or installing brand new carpet flooring during new home improvement projects or home renovations. The MD Building Product kit includes the 7-inch 48104 duckbill napping shear, 48106 plastic tucking tool, 48094 pro razor knife, 48080 3-inch star wheel carpet seam roller, 48092 linoleum knife, 48100 loop pile cutter, 48076 3-inch smooth seam roller, and the 48160 4-inch scraper.
The small MD Building Products 48092 linoleum knife is designed with a curved sharp point and includes a comfortable ergonomic handle. The knife is designed with a high quality contractor-grade material and can be used to cut a range of different materials on the job site including linoleum, vinyl, sheet goods, and carpet. The knife is designed with a sharp high carbon steel blade.
During installation when you notice slight blemishes in the carpet flooring use MD Products 48104 7-inch duckbill napping shears for quickly trimming carpet imperfections. The shears are designed with an ergonomic comfort grip. The napping shears are made with sharp high-carbon steel blade and off-set handle for precise level cutting for all types of carpet flooring.
For increased productively use the MD Building Products 48106 one-piece black plastic carpet tucking tool. The 3-1/2-inch tucking tool can be used for assisting the flooring installer or contractor for tucking carpet around stairs, baseboards, tile, stone, and plumbing features. The tucking tool is an essential tool for professional carpet floor installations or do-it yourself products.
With endless possibilities the MD Building Products 8-piece carpet flooring installation kit is the perfect gift for new homeowners, contractors or do-it yourselfers. With a 1 year limited warranty the installation kit will help save time and money for the next project!