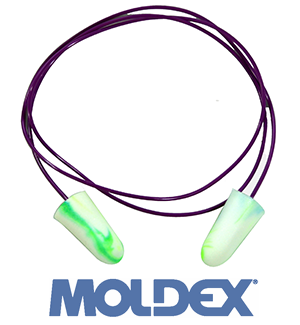 High Quality and Comfortable Workplace Moldex Safety Protection
With a majority of the products made exclusively in the USA Moldex is a company that has provided contractors, business owners, and construction workers with high quality, comfortable hearing protection, and other safety equipment including disposable and reusable respirators, twist-in earplugs, disposable and reusable foam ear plugs, earmuffs, and PlugStation osha ear plugs.
With safety ear plugs available in corded or uncorded Moldex manufacturers both disposable and reusable ear plug styles and will directly help with reducing construction worker hearing loss with Moldex high quality hearing protection. Each ready-fit ear plug is designed with maximum comfort and each soft foam custom earplug will fit with ease in the ear canal and will fit without pressure for providing protection against loud noises found on all construction and jobsites.
For greater protection against harmful dusts, chemicals, and debris the made in the USA Moldex disposable and reusable respirators are designed with compliance with the OSHA respirator protection standard. With many different variations available Moldex manufacturers Dura-Mesh Respirators, NIOSH vapor respirators, particulate respirators, paint respirators, organic vapor, and fullface mask air respirators for protection against gases, vapors, and dangerous dusts found in warehouses, plants, factories, construction sites, and other hazard locations.
For extended hearing protection in a working environment use any of the Moldex hearing ear muffs, shooting hearing protection, and custom hearing protection for woodworkers, metalworkers, construction workers, and do-it yourselfers. Moldex has a variety of PVC-Free premium protection earmuffs with up to 29 dB noise reduction rating (NRR 29) OSHA hearing protection. With different safety ear muff styles including camouflage M2 Special ops, Camo M1 special Ops, SoftCoat PVC-Free, and noise reduction earmuffs. Each high performance ear muff is designed to be comfortable, soft, PVC-Free and compact to fit into a backpack or tool bag.