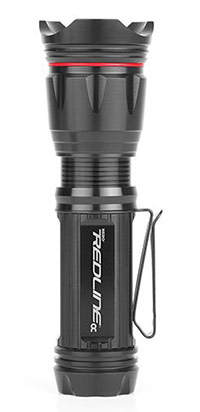 Lightweight and compact at only 4.8-inches in length and 1-inch in width.
The portable and easy to hold Nebo 6092 REDLINE OC 200 lumen LED flashlight with the signature red ring is battery operated and can be extremely useful for do-it yourself auto repairs, night-time construction, professional home inspections, summer camping, hiking, and when you need that emergency light. The simple to use LED flashlight is developed with optimized clarity (OC) technology and is made with heavy duty anodized aircraft-grade aluminum water resistant body and features a powerful magnetic base for quickly securing to metal surfaces. The flashlight will easily improve jobsite functionality with a hands-free operation and will easily attach to metal car hood, car frame, or metal railing. The Nebo 6092 can be used for illuminating an engine block for quickly diagnosing and replacing parts. The flashlight requires a single AA battery for operation.
Designed to be used for carrying everywhere you go, the high power 200 lumen flashlight LED is rated for up to 110,000 hours of life and features a bright glow in the dark on/off button. The soft touch glow in the dark button allows the consumer to find the Nebo flashlight in the dark conditions. The flashlight includes a lanyard for giving additional support by allowing the user to loop it around a wrist.
The compact flashlight produces a bright beam with up to a 6x adjustable beam. At only 0.25 lbs the lightweight flashlight can be stored comfortably in a camping backpack, back pocket, drawer, glove box, or anywhere else a compact flashlight would be needed. The flashlight is slightly above 4.8-inches in length and 1-inch in width and is the perfect gift for the adventurer or hunter in the family. Nebo has a 1 year limited warranty on the flashlight and can be a favorite tool for years.