Heavy Duty Set of 2 Gecko Gauges for Fiber-Cement Siding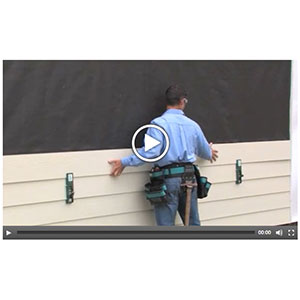 Install Fiber-Cement siding with Gecko Gauge Clamps.
One of the most popular products in the construction field is the innovative PacTool SA903 Siding Gecko Gauge. The heavy duty gauge is sold in sets of 2 and can be used for quickly installing heavy and dense fiber-cement siding up to 48-percent faster and with greater accuracy than traditional methods such as overlap gauge with lap gauge combo, break-away clips and lines. The SA903 siding Gecko Gauge can be used to install fiber-cement on residential and commercial buildings. The PacTool Gecko Gauges are specially designed for supporting fiber-cement siding for immediate nail gun nailing and will allow a professional, contractor, or do-it yourselfer a more accurate siding installation. The gauges are designed and recommended for James Hardie Siding Products and each gecko gauge is proudly made in America.
Fiber cement board siding is very labor intensive and with fiber cement siding installation costs taking up a huge amount of the renovation budget many homeowners are choosing to save money on hiring professional labor and are leaning towards buying fiber cement siding installation tools and doing it themselves with professional quality. PacTool has designed a range of siding products for the beginner homeowner to the more advanced user who wants to learn how to install fiber-cement siding with ease.
When installing fiber cement the difficulty arises when one person has to hold the heavy siding to a precise line and match end to end to start the fastener for securing the siding to the building. The Gecko Gauge improves the process and is worth the initial investment. For siding installations the heavy gauge plastic will not scratch pre-painted siding and will avoid marring the painted surface. The Gecko Gauge can be adjusted in quarter-inch increments for a 4-inch to 8-inch plus 8-1/2-inch reveal.
PacTool stands behind their Gecko Gauge with the exclusive PacTool No-Nonsense Guarantee. If your Gecko Gauge does not operate properly, due to defective workmanship or material, simply ship the product back to PacTool and they will return it.