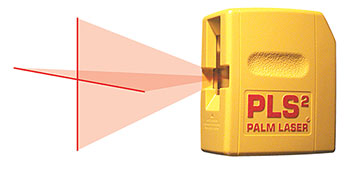 Prevent Costly Errors with the Professional PLS2 Palm Laser
The Professional Pacific Laser Systems PLS2 is a self-leveling battery operated palm laser for horizontal and vertical layout applications. At only 10 ounces the PLS2 laser is the perfect compact plumb, level, and square laser line tool for an installer or contractor. The laser can be easily stored in the included nylon belt pouch and comes with a magnetic wall bracket for extended working capabilities. The laser is exceptionally accurate up to 1/8-inch at 30-feet and will require three AAA alkaline or rechargeable batteries that can be used for 25+ hours with a bright indicating light.
This laser tool is an all in one tool for a contractor and provides the user with a plumb line, chalk line, and level, and makes the project more accurate than traditional hand tools. Make work applications simple with the PLS2 which is designed for heavy duty use by the advanced contractor to the occasional DIY homeowner. The PLS2 helps eliminate simple errors on the job site caused by inaccurate pencil markings and helps complete the job with professional quality every time.
The compact design of the pacific laser systems pls2 palm laser level is water resistant and has a one year warranty for defects in materials and workmanship. This makes it one of the best laser products on the market. The PLS2 complies with US FDA standards and utilizes patented technology. Can be used for remodeling, leveling cabinets, and countertops, and is brighter than most lasers on the home improvement market.