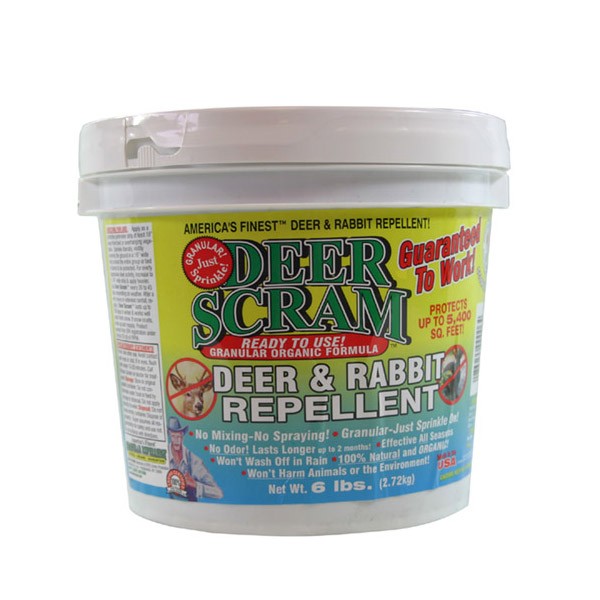 All-Natural and Organic Deer and Rabbit Repellent
For protection up to 45 days and guaranteed to get rid of deer, the granular repellent will create a protective barrier by easily sprinkling the Deer Scram around a backyard garden. The all-natural ingredients can be applied around outdoor plants, fruit trees, ornamentals, and vegetable gardens. With colder weather season approaching, deer and rabbits will be seeking hard to find food. Food that is easily found in your home garden, especially vegetables including kale, carrots, cabbage, lettuce, and spinach. Member tested and recommended by the National Home Gardening Club with up to 400,000 members.
The long lasting and rain resistant deer repellent has been proven to outperform other leading manufacturer deer repellents and will work year-round. The easy to use Deer and Rabbit Scram will not wash away in light rain or give off a foul smelling scent. Available in 6 LBs and 25 LBs white buckets and blended from organic components, the outdoor deer repellent won't harm other plants, animals, and is child safe. The 6 pound bucket can protect up to 5,400 square feet and includes a scoop for easy sprinkling.
Designed to work 24 hours a day the repellent can be applied as a protective perimeter strip at least 18-inches away from bed or overhanging vegetation. For overly aggressive deer herds increase up to a 24-inch wide strip. Use the deer scram every 30 to 45 days and after very heavy or extended rainfall. The active ingredients in the granular repellent include dried blood, garlic, white pepper, cloves, and meat meal. Deer Scram has been tested to work for up to 100 days in the winter season. At a fraction of the cost of chemical-based repellents the deer and rabbit repellent will not harm the animals. Deer Scram is a trademark of EPIC Enviro Protection Industries.