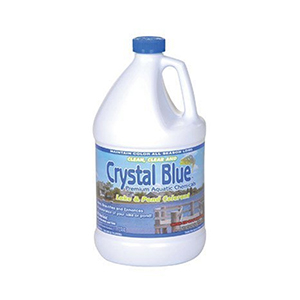 Maintain a True Blue Color and Clarity for up to 30 days with Non-Toxic Chemicals.
Beware of dangerous pond chemicals and use the proudly made in the USA Crystal Blue Pond Dye by Sanco Industries. Crystal Blue Pond Dye is formulated with a proprietary formula for enhancing a private lake or pond with a beautiful royal blue color. The Crystal Blue royal blue garden pond dye will maintain a true blue color and clarity for up to 30 days and will help settle out dissolved solids most commonly found in mucky ponds. Each gallon has the ability to treat up to 1 surface acre (4 to 6 feet deep) and is made 100-percent safe for humans, fish, livestock, pets, birds, swimming, and irrigation. Each 1 gallon (3.78 liters) bottle of Crystal Blue can be used to spot treat algae along a shoreline once per month. Can be used in Early Spring, Late Spring, Summer, Early or Late Fall.
The easy to use garden pond Crystal Blue pond dye can be poured from the container along a pond shoreline or form a slow moving boat and can be applied at a water inlet or by spot treatment across the surface of the pond. Designed to slowly disperse and mix throughout the entire body of water over a 24-hour period and will not disturb a pond chemistry.
Most commonly found pond chemicals can be dangerous for fish, plants, and an entire pond ecosystem. With the proprietary formula the Crystal Blue Pond Dye will not stain or harm water fowl, fish, or livestock once diluted and is completely safe for all animals and vegetation. Not designed for use in swimming pools and is not compatible with chlorine treated water, bleach or purifying chemicals. Do not use the Crystal Blue Pond Dye in rivers, streams, and other bodies of water.For best results use the 1 gallon of crystal blue per acre of water with an average of 4 to 6 feet deep and will treat up to 1,500,000 gallons of water. Keep out of the reach of children.
Every outdoor garden pond is different but for early spring/late spring, summer, early/late fall Sanco Industries recommends to use their pond chemicals safe for fish 5-step annual pond care program for private ponds and lakes which includes Crystal Blue Pond Dye, Natural Pond Cleaner Beneficial Bacteria, Crystal Plex Algae Control, Tsunami DQ Submerged Weed Control, and Catt Plex Emerged Weed Control.