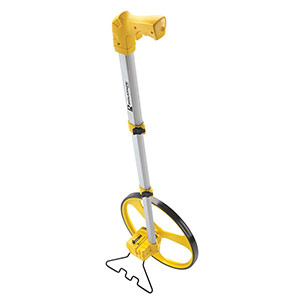 Can be used to measure up to 10,000- Feet on all types of job site terrain.
Designed to outlast other manufacturer measuring wheels, the well-made Rolatape RT312 12-inch measuring wheel is the perfect choice for contractors recording feet or inches for many different surveying applications such as landscapes, athletic fields, fencing, and road construction. The measuring wheel can also be used for law enforcement applications and real estate property appraisals. At only 5 lbs the lightweight telescopic design of the Rolatape measuring wheel allows the contractor to get the wheel down to 24-inches. This compact design allows the user to store the measuring wheel in a trunk or backseat of a car or tucked away in a garage or closet. When fully extended the telescopic handle of the measuring wheel can fully extend up to 42 1/2-inches.
The easy-to-use, one person, measuring wheel is designed with an ergonomic pistol grip handle and features a large 12-inch diameter wheel for rough and moderate terrain. The comfortable pistol grip improves user comfort and control for all surveying applications. The sturdy Rolatape measuring wheel can be used to record up to 10,000 feet. The professional quality measuring wheel features a built-in kickstand, large one-button reset, and made of a higher visibility yellow color.
One of the added advantages to the Rolatape measuring wheel is by reversing the wheel the numbers will become smaller and this will make it easier for correcting errors on the job site. Each Rolatape RT312 measuring wheel features a 1 year limited warranty.