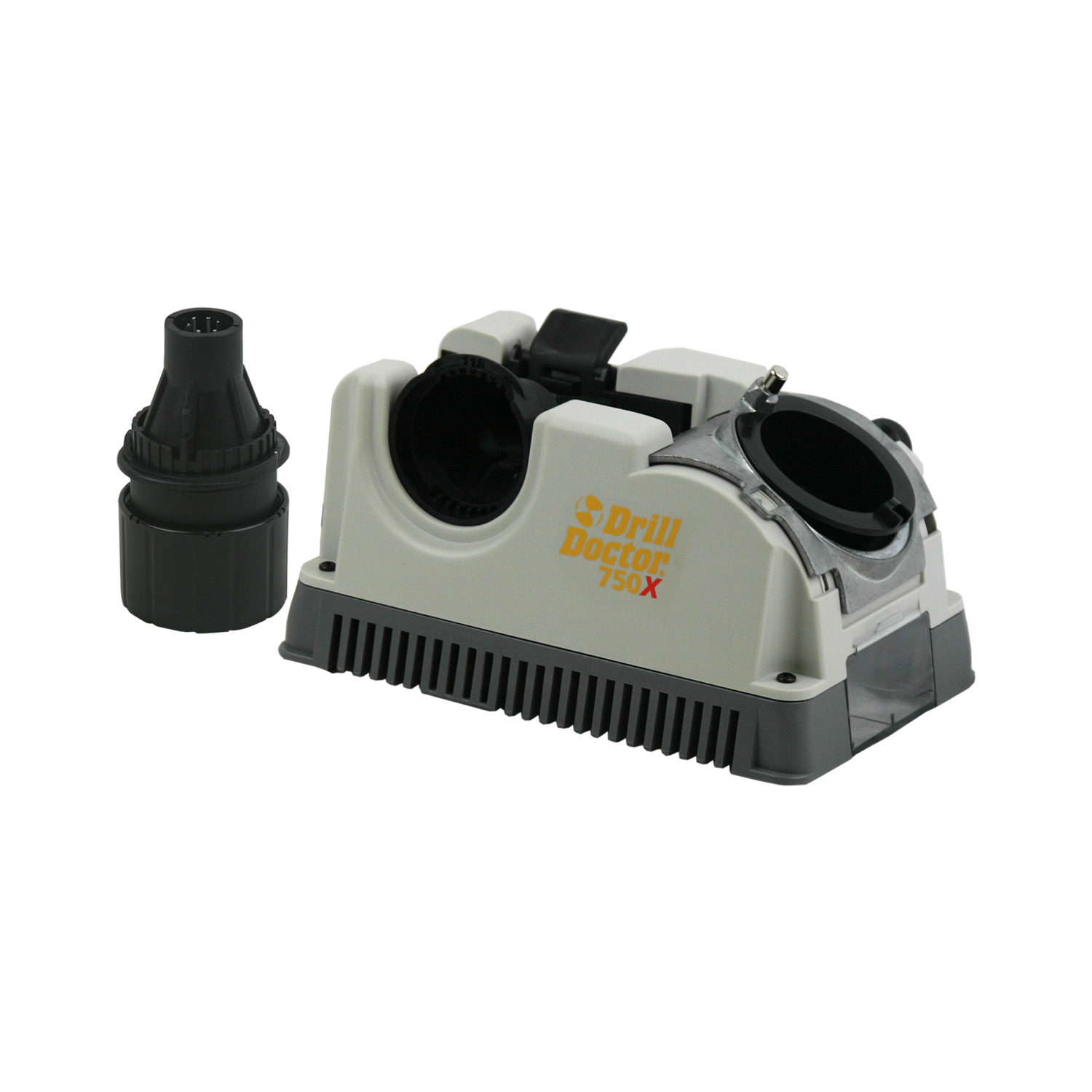 Drill Doctor 750X with Diamond Sharpening Wheel
Designed for the professional or do-it yourselfer the 110-Volt Drill Doctor 750X Drill Bit Sharpener is designed to sharpen dull bits and bring them back to life and is highly recommended for use on 3/32-inch to 3/4-inch drill bits. The large bit chuck is only included with the Drill Doctor 750X model. With the standard diamond sharpening wheel the sharpener can be used on materials such as high-speed steel, carbide, cobalt, TiN-coated masonry, and split-point bits. The Drill Doctor 750X is specially made with an industrial-strength diamond sharpening wheel and includes a 3 year limited warranty against manufacturing defects. Included with the Drill Doctor 750X Drill Sharpener is a hard-shell carrying case, operating manual, and an Informative Instructional DVD.
The lightweight and compact drill bit sharpener features a push to stop design for not allowing the user to over split the drill bit and is easy-to-use and highly accurate and will sharpen drill bits quickly and will save the user from repurchasing new drill bits regularly. A drill bit sharpener is a must-own for machine shops, metalworkers, machinists, contractors, and other professionals. The custom point angle sharpening allows the user to choose any angle from 115-degrees to 140-degrees for improved customization.
With an average of 200 drill bit sharpenings per sharpening wheel the diamond sharpening wheel is user replaceable and allows for a simple installation when requiring an immediate replacement. For best results the user can double the life of the diamond sharpening wheel by reversing the wheel before replacement.
The Drill Doctor 750X has an included operating manual with detailed instructions for cleaning, maintenance, and how-to quickly change sharpener accessories for completing all future sharpening projects. Drill Doctor recommends cleaning the tool sharpening machine after 25 drill bits. We recommend the user disconnect the sharpening machine when cleaning and changing tool accessories, this will help create a safer workplace environment.