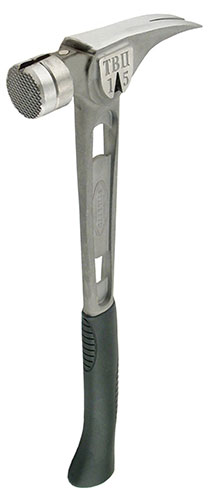 Stiletto 15 Ounce Framing Hammer with 28-ounce Hammer Driving Force
If you are a professional or a homeowner working on a framing, decking, or roofing project a Stiletto titanium hammer is recommended for all types of heavy duty jobs. Traditional steel hammer heads weigh anywhere from 20 to 32 ounces and put increased stress on hard working elbows. Often referred to as carpenters elbow, chronic overuse stresses the tendons and creates pain and soreness for framers, carpenters, and roofers.
The Stiletto TB15MC 15 ounce TiBone framing hammer can be swung faster than heavier framing hammers because of the ergonomic curved titanium handle. Each titanium hammer is designed to weigh between 12 to 16 ounces thus creating less stress on elbows over time. The Titanium head has been tested for 10 times less shock than steel hammer heads and will create more leverage with the longer handle. The 15 ounce head is comparable to a driving force equal to 28-ounce hammer without the added extra weight.
The Stiletto TiBone hammer has been used in rough framing, concrete work, light framing, and remodeling and is extremely durable and reliable. The innovative Stiletto TB15MC 15 ounce framing hammer is built with a magnetic nail start feature on the nose of the titanium framing hammer making it easier for one-handed applications. The handle grip is made of an exclusive rubber design for additional comfort and control. Easily control the hammer with the large striking face for limiting the amount of mis-hits on the construction site. With all these features on the Stiletto TB15MC it is one of the best framing hammers on the market.