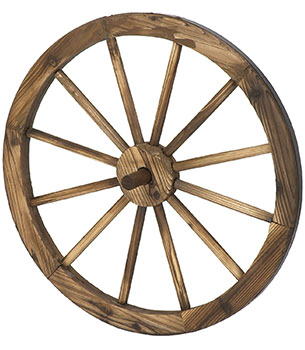 Give your home yard a little bit more character and Midwest style.
When starting to look for garden décor and landscape ideas for a small garden, consider adding a stylish Astonica rustic wooden wagon wheel to the garden design plans. The decorative 24-inch wooden wagon wheel is designed to be used as an accent to a water fountain, wooden fence, metal gate, flowers or plants and can be placed in the front yard or backyard garden landscape.
The Astonica old fashioned wooden wagon wheel is made with authentic fir wood. Fir wood is most commonly found in North America, Europe, and Asia and is part of the evergreen tree family. Each wooden wagon wheel has beautifully hand-burnished natural wood finish and gives the old fashioned wheel the aged and antique look homeowners desire for any outdoor garden renovation project. The decorative wagon wheel is 24-inches in height and is 1.5-inches thick.
A residential property with a beautiful garden landscape will stand out and have a leg up over other competing houses on the real estate market. Most potential home buyers are more inclined to look at homes with a tightly kept lawn and a memorable garden in the listing pictures than neglected properties. Add in a few decorative garden accents including a wooden wagon wheel from Astonica and give your home yard a little bit more character and Midwest style.
Astonica sells a range of garden outdoor furniture such as folding wood chairs, lazy susans, patio and deck umbrellas, garden benches, patio tables, birdbaths, outdoor furniture cushions, and other outdoor decorative accessories.