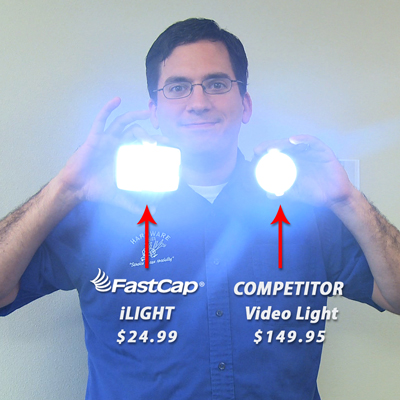 When I was in school my broadcast professor talked about the message being more important than the equipment used to create the message. He illustrated this with examples of people receiving prominent industry awards that were shot on consumer cameras.
FastCap is a local company that really takes the LEAN method to heart. If you aren't familiar with LEAN, you owe it to yourself to look it up, it truly could change your life. As part of it's LEAN culture, FastCap makes a lot of videos. I look at what FastCap is doing with their videos and while the quality of the videos aren't up to broadcast standards they are pumping the videos out left and right. What's more is the videos are incredibly helpful and informative. I think we could all learn a lot from their method.
How do they do it? FastCap practices what they preach as they use their own iDangles, iPoles, and iPole accessories to quickly acquire the video when they have the idea.
The iPole is one of the best and fastest ways to take professional videos of yourself. It is a great way to talk to your audience and get a point across quickly and easily while being able to show natural human emotion and movement. It has a standard 1/4-20 mount for most small cameras and FastCap makes several different accessories such as the SuperMount that allow you to attach your smartphone with the iPole. When shooting this way, you are the focal point of the shot, even when you are moving, you remain a constant. For this reason, the background movement doesn't make the audience sick.
I normally shoot video on a $6,000+ camera. While the quality of the video footage is great, it is very clunky compared to a smartphone. I only pull it out of its Pelican case for special occasions and I don't carry it around with me all the time. I have many different accessories for this camera such as a $149.95 dimmable LED light that mounts to the top of my camera. My light is made of metal and uses a proprietary rechargeable battery system.
While my setup results in superior video footage, I usually get very little of this footage because it is a monster to set up. The FastCap approach for most informative videos is far superior. Smartphone cameras are now shooting very high quality videos and most people don't leave the house without them. Paul and his team at FastCap recognized this early on and started using their phones to extend their conversation through YouTube about their products and LEAN methods to their customers and followers.
FastCap further extended that by creating innovative yet simple accessories to make this even easier and more professional. FastCap sells their dimmable LED iLight video light which does the exact same thing as my expensive dimmable LED light for a fraction of the cost ($24.99). It takes 3 AA batteries which is easy. A tradeoff is that the housing and mount are made of plastic. If the iLight is nudged while fastened to the mount, it is possible the base could break and the light would need to be replaced. The positive side is the light is a fraction of the cost.
With a lot of different camera options out there from the SmartPhone cameras to GoPro's it isn't difficult to find a high quality, small video camera to shoot the footage for you. Add in the iPole, iLight, and any number of mounting accessories that FastCap makes like the SuperMount and you have a LEAN, portable, and super easy video studio with you at all times. Getting your message out quickly and efficiently has never been easier or looked better.