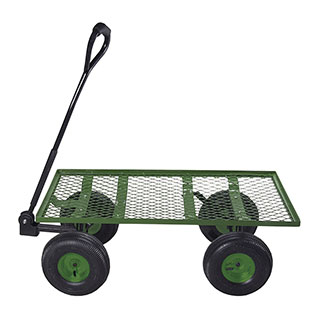 Tahoe Garden Steel Utility Cart with Powder Coated Green Finish
Save time and energy outside this summer season with a multipurpose Tahoe flatbed garden utility cart. Made from dependable and reliable materials, the Tahoe utility cart is designed with a steel mesh construction for increased strength and longevity. The steel mesh is painted with a beautiful powder coated green finish and has a built-in ergonomic handle allowing for increased cart mobility for improve maneuvering of the flatbed cart around the property. Assembly is required but the cart can easily be set-up with the included instruction manual. The garden utility cart is exclusively designed for moving gardening supplies around an outdoor greenhouse, garden or assisting in weekly yard maintenance.
The garden cart is designed to eliminate the stress on the lower back region because of how easy it is to roll and push with the oversized rubber tires. The cart is designed with more versatility than a traditional garden wheelbarrow which only has 1 tire and puts more strain on the user over time. This is an excellent addition for the green thumb in the family, farmer or homeowner looking to save time by eliminating multiple trips to the garage or shed during the harvest season.
Ideal for smaller to medium lawn and garden projects the utility cart is designed to haul up to a maximum capacity of 500 lbs. on the 10-inch x 3.5-inch heavy duty pneumatic large rubber tires. The flat storage on the Tahoe cart is suitable for all kinds of outside transporting needs such as moving vegetable planters, vegetable supports, seeds, gardening tools, and flower garden accessories. The cart is small enough to keep in the garage or in the backyard shed during the winter off-season in northeast states. For next year use the flat bed of the cart for organization of gardening tools and other tool accessories in one precise location ready for when the snow melts and the flowers start to bud.