The Kreg Mini Trak Is A Simple Yet Effective Addition To Any Woodworking Shop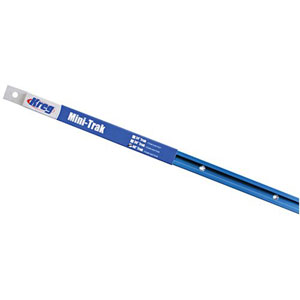 Mini Trak can be used to produce countless types of woodshop jigs and fixtures such as taper jigs, cut-off sleds, and more.
The Kreg Mini Trak provides a standardized railing that can be used and altered to fit various jig and sled situations. For example, as a rail which can accept standard 1/4-inch hex bolts the trak can be used to create adjustable taper jigs with a handful of bolts, clamps and a base jig board. The mini track can also accept the Kreg 1/2-inch measuring tapes in metric or Imperial standard measurements to help your project maintain accuracy and to simplify your work flow. Set it up as a static measuring table, or add the tape measure to your jig for an easily altered and accurate layout.
With a compact 3/8-inch by 3/4-inch frame the track can fit flush with a 3/8-inch by 3/4-inch rabbet or dado bit for smooth creation of your tongue and groove joints. Having a solid, straight guide that easily fits your router work means more time completing the project and less time setting it up; it's a great way to breeze through your big laminating projects too! The Kreg Mini Trak comes in three standard sizes of 24 inches, 36 inches, and 48 inches, but can be cut down to size with a hack saw for any use in between. Effective, versatile, and standardized – add the Kreg Mini Trak to your workshop design!