The Larry Light 2 Flashlight By Nebo Is A Sleek Upgrade From The Original Larry Light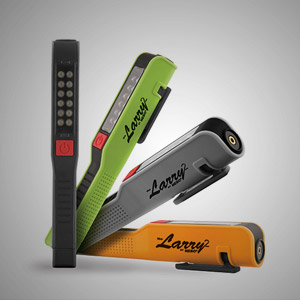 The Larry 2 has an 'improved aesthetical' design over the Larry 1 and includes extra functions including a red point laser and 12 LEDs.
The Larry Light by Nebo is a bright, easily placed light which looks like a pen but acts as a work light. Its pen-like clip allows it to slip onto material such as plywood or hook board while the swivel action allows you to point the light in the right direction. Adding in the magnetic feature of the clip, this light is ready to be used in a variety of places where a ferrous surface can be found. With such a versatile use, it's no wonder the Larry Light is so popular!
Now Nebo is introducing the Larry Flashlight 2, which upgrades the sleek design and provides a red laser pointer. The Nebo 6006 Larry 2 provides up to 160 lumens through the increased 12 LED's and is expected to last for up to 6 hours of continuous use. The red laser light runs at <5mW and can travel up to 450 yards, allowing the Larry 2 to be useful in most settings whether you are working on a construction site, a work shop, or a classroom. Clip the light onto your clipboard for an on the go desk lamp or attach it to your tool box for a quick box light. Bring the light with you for seeing into areas with narrow openings, or use the laser to help line up your projects. With a sturdy body and an ergonomic handle these lights are ready to go where you go.