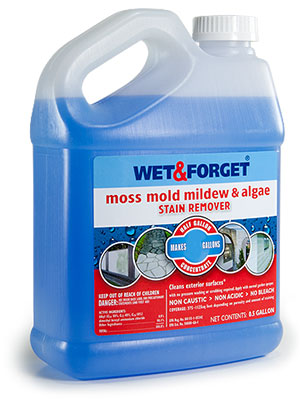 Quickly Eliminate Moss, Mold, Mildew and Algae with the Wet and Forget Cleaning Solution.
Wet and Forget 1-gallon stain remover is ideal for homeowners looking to prepare for the start of spring cleaning. The no rinse cleaner is scientifically developed to be non-caustic, non-acidic and contains no bleach and is completely biodegradable. The professional 1-gallon outdoor concentrate solution can be added to any empty garden sprayer with water and will provide homeowners with a quick one-step outdoor cleaner for removing moss, algae, lichen, mold, or mildew.
Save time and money with Wet and Forget this spring by not renting a costly hourly rental pressure washer or hiring an outdoor cleaning specialist company. With no scrubbing or rinsing, the solution is perfect for hard to reach spots on a roof, deck, or house siding. For added reassurance the product is registered with the US Environmental Protection Agency (EPA) and contains no harsh chemicals and is safe for using around flowers and other plants. Easily store the solution in a sprayer for an unlimited shelf life for quickly grabbing solution for the next spring cleaning project.
Wet and Forget instructions involve spraying the cleaner on any outdoor surface twice for up to 15 minutes and the long lasting no rinse solution will do all the work! The process will take up to 1-2 weeks and the solution will absorb into the exterior or material and will create an invisible barrier for protecting the outdoor surface for up to 1 year. With no scrubbing, rinsing, or pressure washing the Wet and Forget stain remover is one of the easiest cleaners on the market and can be used on dozens of materials and exteriors. The Wet and Forget reviews are in and the stain remover is one of the toughest cleaners on the market!
Wet and Forget is the perfect backyard cleaner for removing moss, mildew and, mold from covered porches in the backyard to decks, downspouts, driveways, and gutters. For even more cleaning applications the outdoor cleaner can be used on patios,roofs, screens, shingles, and siding with no need to spray water after applying the cleaning solution.
Boaters love the fact that 1 gallon of Wet and Forget solution can be used to clean and remove stains from aluminum, boat bilges, boats, boat carpeting, boat seats, canvas, fiberglass, inflatable boats, sails, teak, and will provide owners with protection for up to 1 year against mold inside the boat.
Use the outdoor Wet and Forget cleaner during the long summer at the campground or state park for cleaning exterior wood cabins, outdoor camping furniture, mesh pop-up campers screens, and fiberglass RV siding for cleaning the moss and mildew that will grow over the hot summer months. The 1 gallon of Wet and Forget has an unlimited storage life and can be stored over the winter in the camper for the next cleaning project.