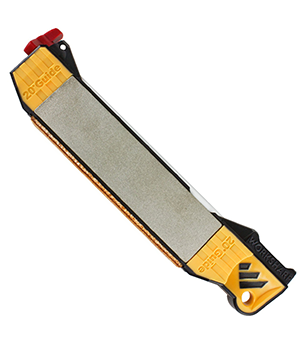 Compact and Lightweight Outdoor Field Sharpener for Standard and Serrated Knives.
The lightweight, portable and easy to use Work Sharp WSGFS221 Guided Field Sharpener is a compact outdoor knife and tool sharpener designed specifically for use anywhere in the harshest conditions. The included five abrasive steps (or stages) will help provide the user a complete sharpening solution. Each abrasive step has a built-in precision angle sharpening guide for ensuring a consistent bevel angle across the entire edge of a dull blade. The kit requires no set-up or assembly and can be used to sharpen standard knives, serrated knives, scissors, broad heads, fish hooks, garden tools, axes and machetes and more. The handheld tool and knife sharpener is perfect for all types of outdoor adventures including hiking, fishing, hunting, and camping.
The professional knife sharpener has 5 stages which include two replaceable Diamond Plates (Fine and Coarse Grits, two Ceramic Rods, a Position Coarse Grit, a Fine Grit, and a Fish Hook Hone), serration sharpener, and a leather Strop with Micro Abrasive.
Use the Work Sharp WSGFS221 Guided Field Sharpener (version 2.2.1) for keeping camping knives at peak performance and with added versatility the sharpener can be used on a bench top and is designed with a lanyard hole for easier accessibility on the trails. The compact design allows the sharpener to fit into a cargo pant pocket or camping backpack.
Work Sharp is an American Company and has been around for more than 30 years. The company is based out of Ashland, Oregon and develops and manufacturers knife sharpeners, woodworking and metalworking tool sharpeners, and other accessories. Each product is assembled in the USA.