Get A Free Bare Tool or Battery with Spring 2014 Makita Promotion
This Makita Promotion runs from April 1st - May 31st, 2014.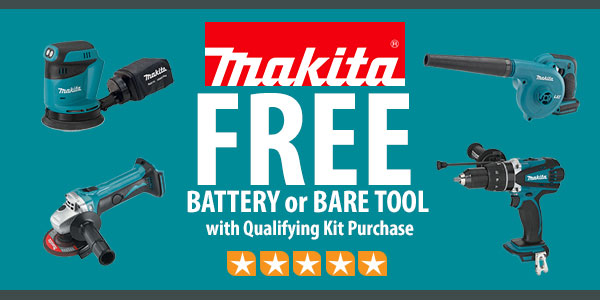 Buy a professional Makita 18-Volt LXT cordless combo kit and instantly receive a free bare tool or battery.
Step 1: Add any of the following Makita cordless power tool combo kits from the slider below to your shopping cart. Each combo kit comes with 2 BL1830 batteries and a variety of different power tools needed to start and complete any home improvement or construction project. Once you have successfully added one of the following kits LXT211, LXT218, XT248, LXT238X1, LXT437, LXT405, LXT406, or LXT407 proceed to step 2.
---
18V Combo Makita Kits
Build bigger and dream more with a new 18-volt Makita combo kit. With the spring home improvement season fast approaching make sure you aren't left in the dust by this amazing power tool deal. Each one of the Makita LXT combo kits features 2 BL1830 batteries, a 30 minute DC18RA battery charger with a variety of tools from a 18-volt cordless impact, 6-1/2-inch cordless circular saw to a 18-volt multi-tool and orbit sander. Each kit comes in handy storage case.
---
Step 2: After successfully adding the 18-volt combo kit to the cart pick one of the following bare tools or BL1830 battery pack from the slider. A bare tool is essentially a brand new high performance cordless power tool without an included battery or battery charger. Once you have added the Makita bare tool to the same shopping cart with one of the Makita LXT kits included in the Fall Makita promotion the bare tool or battery will have a price of $0.00. Hardware sales has US free ground shipping.
18-Volt Makita Bare Tools
Save hard earned money with any one of these Makita power tools. A bare tool is a tool that does not come with a battery, charger or tool bag. Makita bare tools are versatile, durable and are brand new and are ready for any project you can think of. Buying a bare tool lets you quickly and cost effectively diversify the tools in your workshop at a cheaper cost without the added cost of tool accessories.
---
Step 3: A Coupon code not required. Kit and free tool or battery must be on the same order. Only 1 free bare tool or battery per order, order as many times as you like.