Step By Step Instructions On Placing An Order On HardwareSales.com

Search the site HardwareSales.com. when you find a product you would like to purchase click the 'Add To Cart' button. This button is available under the product in a gallery page or when you click through to the product page. By clicking on the button the product will be added to your cart as well as take you to the shopping cart page. If you would like to continue shopping without checking out, click on any of the product links at the bottom of the page or the HardwareSales.com logo at the top left hand corner where you will be brought back to the main page.
---

To return to the cart click on the shopping cart logo above the phone number on the top right-hand corner of the page.
---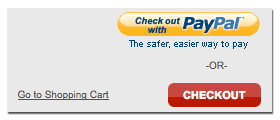 To pay using PayPal click on the PayPal button at that time. To pay using other payment methods (credit card, check,...) Click the 'Checkout' button.
---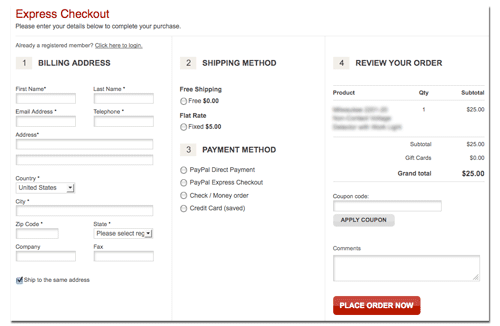 HardwareSales.com has adopted the 1-step Express Checkout.

Step 1: Type in your billing address and email address. Uncheck "Ship to the same address" if your shipping address is different than your billing address. You will need to enter your email address and telephone number to continue.

Step 2: Next you will be able to upgrade your shipping method for faster delivery (2-day or overnight). After filling in the information you will need to click the 'continue' button at the bottom of the screen.

Step 3: Select what kind of payment method you will be using. If you use a credit card fill in the appropriate fields. Select the bullet next to Paypal, Personal Check or Money Order if you plan to use one of those options. If you select the money order or personal check options your order will not be shipped until Hardware Sales has received the full amount for the order.

Step 4: Review your order, enter in a coupon code, or leave a comment. Under the 'Coupon Code' section you may enter a current hardwaresales.com coupon if you have one. From time to time we provide coupon codes to subscribers of our mailing list or repeat customers. If you do not have a coupon code that field can be left bank. If you have a comment about the order you can leave it in the 'Comments' section.

After you have completed the necessary fields click on the red 'Place Order' button. You will be directed to the Thank You page, where your invoice number is. You will also receive an email confirming your order. After viewing that page, close the browser and eagerly sit on your stoop until the package arrives. Once the package arrives immediately go back to HardwareSales.com and repeat these steps.